Videoconference Program
Our videoconference program, "A Distant Shore," resumes despite being closed!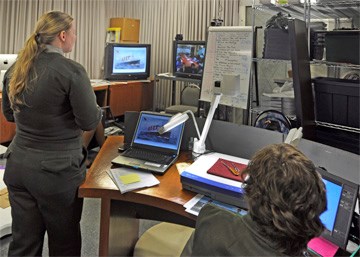 Although the Ellis Island Immigration Museum is still closed following Hurricane Sandy, we are pleased to be able to offer this program again! Schedule "A Distant Shore" for your classroom any Wednesday through the end of May 2013. There are limited time slots available and we can book as many as four programs each Wednesday.
UPDATE: The response has been overwhelming, and April and May are already completely booked. Please email us for more information or to be added to our mailing list to be notified when we can resume accepting requests in the fall through the Center for Interactive Learning and Collaboration (CILC) at cilc.org!
Another option while we're closed is a Virtual Field Trip to Ellis Island! Coming to America: Ellis Island was presented as a LIVE WEBCAST Thursday, March 29, 2012. Scholastic and the National Park Service encourage you to explore the website and watch the recorded version.
"A Distant Shore"
Ellis Island Videoconference Program
The next best thing to visiting the Ellis Island Immigration Museum is to participate in a videoconference distance learning program with a park ranger who broadcasts to your classroom live from Ellis Island. Students in grades 4-5 learn about the immigrant experience at Ellis Island through a variety of interpretive talks, videos, photos, and primary documents. This 40-minute program requires the completion of pre-visit and post-visit activities.
This program is free of charge, but requires that the class has access to video conferencing equipment such as a Tandberg or Polycom video conferencing unit (Skype is not a connection option). A test call needs to take place several days before the scheduled connection so there is enough time to properly determine and work around connection issues, if any. Due to some school district's network security configuration, the National Park Service may launch the call connection; this will be determined by the outcome of the test call.
You may download the "A Distant Shore" Teacher's Guide here
Last updated: February 26, 2015