Distance Learning
A Distant Shore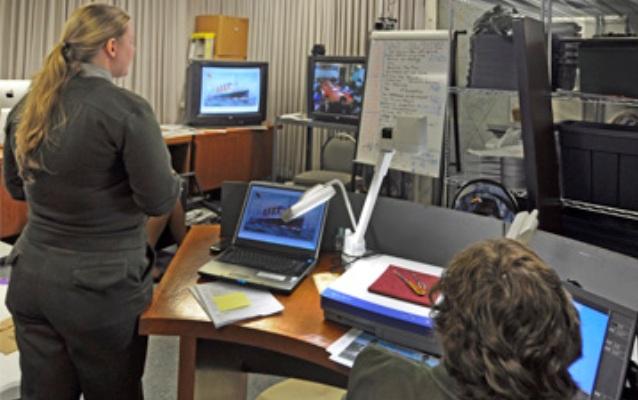 Alert:
The Distance Learning Studio was disabled by the loss of infrastructure in the Main Immigration Building due to Hurricane Sandy. It will still be a number of months before communications and data are restored to the Main Building and it is likely that the distance learning program will not be continued at this time.
Even if you are unable to visit the Ellis Island Immigration Museum due to distance or cost, your class could participate in a videoconference distance learning program with a park ranger who broadcasts to your classroom live from Ellis Island.  Students in grades 4-5 learn about the immigrant experience at Ellis Island through a variety of interpretive talks, videos, photos, and primary documents.
How to Participate
This program is free of charge (paid for by your tax dollars), but requires that the class has access to videoconferencing equipment such as a Tandberg, Cisco, Polycom, or LifeSize video conferencing unit (VCU).  Skype is not a connection option at this time.  Register for programs through the Center for Interactive Learning and Collaboration at cilc.org. Either search for "Ellis Island" or view the program description at http://cilc.org/search/content-provider-program.aspx?id=5261.  
Requests are not being accepted at this time.  A test call needs to take place several days before the scheduled connection so there is enough time to properly determine and work around connection issues, if any.  Due to some school district's network security configuration, the National Park Service may launch the call connection; this will be determined by the outcome of the test call.
Details
Subject:

History, Immigration, Social Studies

type:

Distance Learning