Booker T Washington National Monument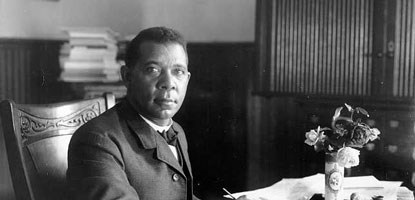 Booker T. Washington National Monument commemorates the birthplace of America's most prominent African American educator and orator of the late nineteenth and early twentieth centuries. On April 5, 1856, Booker T. Washington was born in slavery on this 207-acre tobacco farm. The property evokes a middle-class tobacco farm of the 1850s, representative of Booker T. Washington's enslaved childhood at the Burroughs farm. The realities of slavery, the quest by African Americans for education and equality, and the post-war struggle over political participation all shaped the options and choices of Booker T. Washington. After the Civil War in 1881, Washington became founder and first principal of Tuskegee Institute in Alabama. Later, as an adviser, author and orator, his past would influence his philosophies as the most influential African American of his era.
Visitors to this site are invited to step back in time and experience firsthand the life and landscape of people who lived in an era when slavery was part of the fabric of American life.
Last updated: March 31, 2012