Date & Time

Multiple Days: 09/15/2018, 09/16/2018 9:00 AM to 5:30 PM

Fee Information

Included in site fee

Contact Us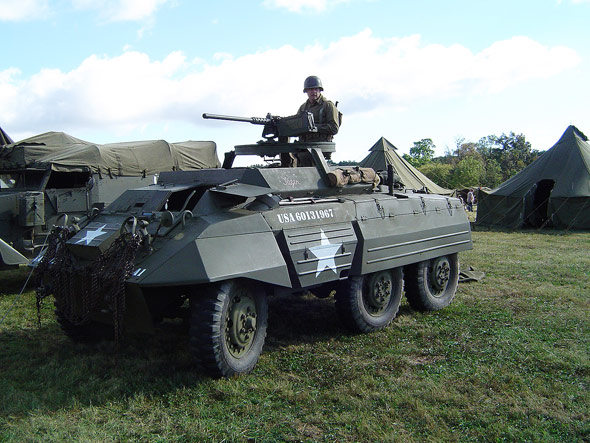 UPDATE September 10, 2018: Due to the heavy rain the site has received over the past four days and the future forecast of additional wet weather, the 2018 WWII Weekend living history camp and USO Dance have been canceled.  The speakers, including veterans and authors, have been moved to the Gettysburg Museum and Visitor Center.  A new schedule for the speakers will be available on the park Facebook page. Please continue to check the site Facebook page for updates.
On September 15 and 16, 2018 the National Park Service will sponsor its 22nd annual World War II living history weekend at the Eisenhower National Historic Site.  The public is invited to tour World War II encampments of over 700 living historians portraying Allied and German troops. The camps are authentically recreated by over 90 living history units and include original World War II vehicles. 

Living history volunteers will present programs throughout the weekend on WWII weapons and equipment, communications, medical services, military vehicles, and the life of the common soldier. Dozens of operational WWII vehicles will be on display, including a Sherman tank and a tank destroyer. Visitors have the opportunity to participate in an Army Air Force mission briefing, join an infantry platoon on patrol, and listen to stories of civilians from the Home Front.

The weekend also features book signings, special guided tours of World War II burial sites in the Soldiers' National Cemetery, and a World War II style "USO" dance. Both days, visitors may purchase lunch at the site courtesy of the Heidlersburg Volunteer Fire Company. Guest speakers for the event include World War II veterans and authors.

Both days, retired National Security Agency employee Rick Henderson will be on hand to demonstrate a captured German Enigma Code Machine, the code of which was cracked by the Allies, allowing them to intercept and decipher important messages transmitted by the Germans.

Licensed Battlefield Guide Ralph Siegel will present free guided tours of the World War II burials in the Soldiers' National Cemetery. Though well known for Civil War burials, the National Cemetery is the final resting place for more than 400 soldiers, sailors, marines, and airmen who died between 1941 and 1945. The interments include men who fell at Pearl Harbor and on D-Day in Normandy. These hour-long free guided walks are offered Saturday at 5 p.m. and Sunday at 10 a.m. and 1 p.m. The tour begins inside the Taneytown Road cemetery gate.

Saturday night, a World War II style "USO" dance will be held at the Gettysburg National Military Park Museum and Visitor Center from 7:30 p.m. to 10:30 p.m., featuring 1940s music by the Gettysburg Big Band.  Open to the public, tickets will be sold at the door for $10.00.  A cash bar will be available. 
 
The encampment will be open Saturday 9:00 a.m. to 5:30 p.m. and Sunday 9:00 a.m. to 4:30 p.m.  Admission to the Eisenhower National Historic Site is by shuttle bus.  Buses depart from the Gettysburg National Military Park Museum and Visitor Center located at 1195 Baltimore Pike.  Weather permitting, free on-site parking for passenger vehicles only will also be available in a farm field accessible off of Emmitsburg Road, Business Route 15.  Bus groups and visitors using wheelchairs should plan to use the shuttle system.  For reservations, call 1-877-874-2478.  Cost of shuttle bus tickets are: Adults, $9.00; Children 6-12, $5.00; Children age 6 and under are admitted free.
---