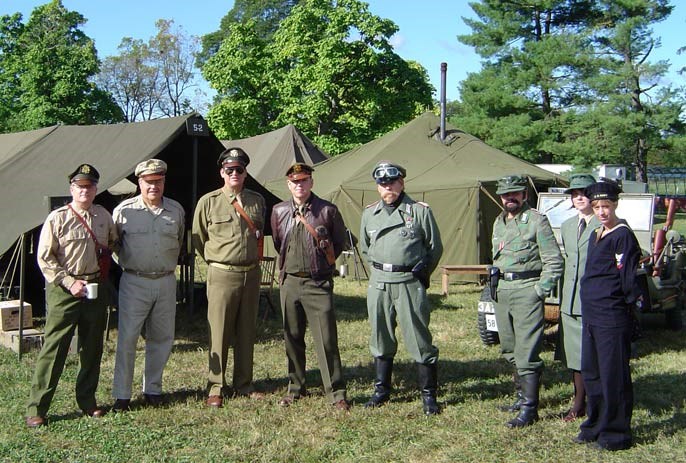 Eisenhower National Historic Site will be hosting its 22nd annual World War II Weekend September 15 - 16, 2018. We appreciate your living history group's interest in participating! Below are links to two forms you should read. For further information please
email us
.
Dear Living History Volunteer:
The Eisenhower National Historic Site at Gettysburg, Pennsylvania, will be hosting a World War II living history encampment on September 15-16, 2018.
THIS YEAR THERE WILL BE MANDATORY UNIT REGISTRATION CUT OFF DATE ON AUGUST 16. If your unit fails to register by then it will not be allowed to participate.
This program will primarily portray an Allied camp in 1944 ETO. However, German and Soviet forces will be allowed as well. We do prohibit groups that portray Nazi political units such as the SS from participation. This is non-negotiable and any volunteers found with SS items will be asked to immediately leave the site.
The main focus will be on interpreting Army life in General Eisenhower's theater of operations. We also welcome groups which represent the other theaters of the war such as the Navy, the Marines and the Home Front. We are interested in having knowledgeable living history volunteers who can tell the story of the common soldier in World War II. We would like to have your organization participate in this event.
The Eisenhower World War II Weekend is the weekend with the highest visitation to our site annually. Last year we had well over 600 living history participants. We also had several distinguished WWII veterans and historian authors as special guest speakers.
If your living history organization plans on attending, please fill an Agreement for Organization / Group Voluntary Services Form, one per unit. Please email
e-mail us
to receive a digital copy of the form.
This year there will be a deadline for group registration! Your unit must register before August 16!
Participating units should arrive Friday, September 14, any time after 8 a.m. and on into the night, in order to set up their camp. Or they can do so early Saturday morning before 9 a.m. when the camp opens to the public. Someone from your unit must be in your camp the entire time we are open to the public both Saturday and Sunday. This is an authentic impressions only program, so bring only appropriate camp gear. The camp will be set up in a large level field east of the Eisenhower Home.
Participant parking is available on site. Water as well as portable toilets will be provided and public restrooms will be available in the lower level of the site's barn. Arrangements will be made for shower facilities in town to be available for Saturday evening of the event. Lunchtime food service will be available on site both days courtesy of a local volunteer fire department. We will also sponsor a WWII USO style dance (free to those signed in as participants) featuring the Gettysburg Big Band will be held Saturday night at the Gettysburg National Military Park Visitor Center. A cash bar will be available at the dance. No consumption of alcohol is allowed in the camp.
Unless authorized by National Park Service staff, no firing of ammunition including blanks, or detonation of explosives devices, are to be done at this event. Our event coincides on Saturday with the battle re-enactment at New Oxford which is a totally separate event. If you participate in the New Oxford event be sure to secure any leftover blanks when coming into our site. Edged weapons such as bayonets must remain in their scabbards except when being used for demonstrations at a safe distance of at least seven paces from the next person. Re-enactors will be expected to conduct themselves as professional historians and follow safety guidelines.
If your unit is interested in attending this event, please contact us as soon as possible to let us know the approximate numbers we can expect and the type of demonstration or talks you plan to present.
If you have questions contact us at (717) 338-9114.
Sincerely,
Alyce Evans
Park Guide
Eisenhower National Historic Site
As a participant in the Eisenhower National Historic Site World War II Weekend, you represent the National Park Service as an interpretive volunteer. You are expected to conduct yourself in a professional and courteous manner when dealing with the public. You are expected to act in a courteous and serious manner at all times, fitting with the period that your unit portrays. Know your material well and be just as inquisitive toward the visitors as they are toward you. Ask them questions. Draw the visitor into your demonstration by comparing their lives today with the experiences of Americans during the 1940's. We also request that you respect your fellow volunteers, their equipment, and camps.
Personal Behavior and Code of Conduct
Use of alcoholic beverages is prohibited on the site during the event.*
This weekend is meant to primarily represent the Army of the United States in 1944-45 and thus, is a military camp. Look sharp! Slovenly "Willie and Joe" impersonations are not appropriate in this setting unless you are portraying troops just arriving from the front. Units portraying other Nationalities look sharp too!
Courtesy to the public is required. Use of colorful language should not be tolerated by unit commanders and will not be tolerated by the park. The general public includes children. Be sensitive to proper etiquette with different age groups.
Living history volunteers are not permitted to sell any items to the public or other living historians while at the historic site. World War II items, including books, must only be sold through our site bookstore. It is National Park Service policy that only NPS authorized vendors may make sales.
Personal responsibility for behavior and use of the open public restroom facilities is required. Public restrooms in the bottom of the bank barn will be closed Sunday morning between 7:30 a.m. – 8:30 a.m. for cleaning. Please be courteous to the cleaning staff while they perform their work.
Quiet hours in camp are between 11:00 p.m. – 6:00 a.m.
*There will be a cash bar Saturday night at the USO-style dance held at the Gettysburg National Military Park Visitor Center. Please have designated drivers for your groups.
Camp Sites
The Camps will be open to the public starting at 9:00 a.m. and close to the public at 5:30 p.m. The last shuttle bus arrives at the site at 4:00 p.m. and the last bus back to the visitor center is 5:30 p.m.
Personal cars are not allowed in the LH camp after 8:00 a.m. Saturday morning.
Due to limited space in camp, when putting up tents please place tents as close as possible to each other. Cross rope tie-down lines to maximize use of our available space.
Do not place tents, rope ties, tent stakes, or vehicles in roadway lanes.
Please keep camp sites free from distracting modern intrusions such as modern coolers and food containers.
Trash will be contained in the individual camps in appropriate garbage containers/bags.

Trash Pick Up Times: Saturday and Sunday – 8:00 a.m., 1:00 p.m., 4:00 p.m.
Please set out garbage bags along Nevins Lane (on the east side of the fence) for quick pick up by NPS Park Service Maintenance Staff.

For camp sites near the restroom facilities, please leave enough room for pumper trucks to access the facilities. We would like to keep our units clean and our pumping company happy.
Will be opened for LH participants to break camp at 4:00 p.m. on Sunday. The NPS will open the camp earlier for breakdown if visitor attendance has decreased.
Gettysburg Areas School District will open the Middle School locker rooms from 5:30 p.m. – 7:30 p.m. on Saturday, Sept 16. All living history volunteers are able to use the shower facilities free of charge.
Weapons Safety
Basic weapons safety rules will be enforced. All weapons will remain unloaded but will be treated as though they are loaded. Never point the muzzle at another person. Keep the barrel pointed skyward or toward the ground.
When on duty, (such as guard duty or during demonstrations), weapons must be kept with the owner at all times, handled in a military manner, secured in the volunteer's hands at all times or slung.
When off duty, the weapon should be secured in the participant's tent or a central secure place. Never lean any weapon in a vertical position against any object, unless you are using a rifle rack. Rifles with stacking swivels are permitted to be stacked in a military manner. If not stacked, weapons should be stored flat. All weapons (including dummies) used in displays must be located in a central area with a guard posted during hours of public visitation.
Never dry fire any weapon. If done too often it can damage the mechanism.
The public may hold a weapon as long as the owner maintains a firm grasp on the weapon. This will prevent inadvertent aiming at other people. The owner should check the chamber prior to each request to hold the weapon. The public is absolutely prohibited from handling edged weapons or handguns at any time.
Sharp edged or pointed weapons, such as bayonets, knives, and swords, must be kept sheathed except for demonstration purposes. Even then, they must be kept in a scabbard unless there is at least a seven-foot safety zone between the living historian, other re-enactors, and the audience.
Vehicles
Only World War II-era military vehicles will be allowed in the camp and display areas during visitation hours. Nearby will be a parking area for modern vehicles. Any person wishing to break camp during visitation hours will need to walk their gear back to their vehicles or request a historic vehicle to haul their gear to participant parking.
All vehicles are to be driven in a safe manner by licensed drivers. No excessive speeds are allowed.
Vehicles should only carry the number of passengers they were designed to carry.
Parking modern vehicles in the loop area by the Motor Pool is prohibited.
Please use marked roads and camp roads while driving around the site. Avoid driving across lawns, grass areas, and pedestrian bridges.
Eisenhower Farm Farm lane is one way starting Saturday morning until Sunday 5:00 p.m.
Ammunition
No live ammunition with projectiles should be in the camp. While some participants might still have left over blank rounds from the New Oxford Event, NO BLANK ROUNDS ARE TO BE FIRED WHILE ON THIS SITE! The public is absolutely forbidden to handle or hold any blank ammunition at any time.
Fires
All open fires for cooking must be attended. Use camp stoves. No ground or pit fires are allowed.
The demonstration of safe practice techniques will present a competent image to the public. These guidelines may be amended any time at the discretion of the on-site National Park Service safety officer.
Medical Emergency Guidelines for World War II Weekend
In the event of a medical emergency, CALL 911 for assistance. NPS Rangers will be able to hear the emergency dispatch over the radios. No not wait for a NPS Park Ranger with a radio.
In case of an actual medical emergency during a tactical demonstration, the call for medical assistance shall be "corpsman" instead of "medic." The latter term was not generally used in the European Theater of Operations.
A National Park Service ranger equipped with a radio will be on duty in the encampment area or near the demonstration area from 9:00 a.m. until 5:00 p.m.
For emergencies or issues that require immediate assistance, please call 911 or the non-emergency line for Adams County Dispatch at (717) 334-8101.
Guidelines for German/Axis Impressions
This World War II event will also feature a German Army encampment. To many visitors, this is still very recent, painful history. Care must be given in portrayal of the "enemy." We recognize that while Germany was under the control of an evil political system opposed to freedom and human rights, the average German soldier of the Wehrmacht or Luftwaffe was not a fanatical Nazi. Many were men who, like our own draftees, were thrust into World War II to serve their government and defend their country. Many Germans served honorably, and though there were atrocities committed by German military units, it is the average German combat soldier who did not, that we want to have represented in our event. Our living history volunteers will be able to tell the German side of the story without giving the appearance of supporting Nazism. The National Park Service will not tolerate any offenses to World War II veterans and holocaust survivors. Any unit that breaks this rule faces expulsion from the event.
Re-enactors that represent German soldiers should follow these guidelines:
No political talks or speeches will be made espousing Hitler or the Nazi Party or Benito Mussolini's Fascist Party.
No racist or derogatory remarks will be tolerated about any groups of people that were persecuted by the Nazi regime.
No displays of Nazi Party ("swastika") flags are allowed. Only unit flags of a non-political nature will be permitted.
Impressions are limited to the combat arms of the Wehrmacht and Luftwaffe. The Kriegsmarine is also permissible. However, no SS, "Brown Shirts," Nazi party officials, concentration camp guards, and Hitler Youth or Gestapo impressions are allowed.