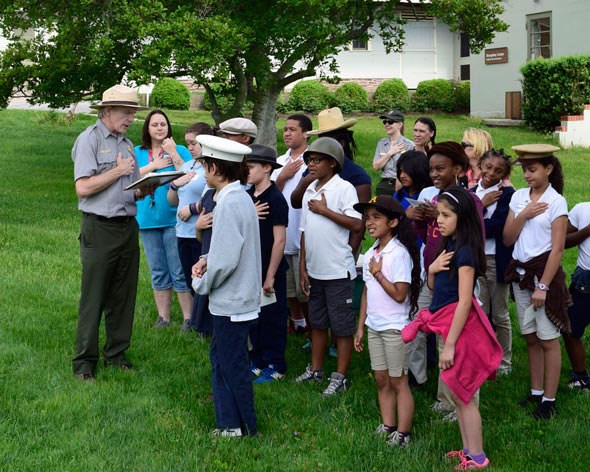 The Molding of a Leader: Leadership and Dwight D. Eisenhower focuses on Eisenhower's leadership ability and the trust others had in him as both Supreme Commander and 34th President of the United States. Through a series of lesson plans, teachers prepare students to visit the historic site. Lessons help students define the traits that make someone a person of character and an effective leader. Using timelines students learn about Eisenhower's experiences and what character traits he acquired from those experiences. Students then create their own family timeline showing how they and their family members gained positive character traits from their own experiences. Students also "Get on the right TRRACC like Ike" as they learn to be Trustworthy, Respectful, Responsible, Accountable, Caring and a good Citizen.
After completing the classroom lessons, students visit the historic site to participate in the Eisenhower: A Man of Many Hats program. As they tour the site with a park ranger, students wear reproductions of hats that Eisenhower wore in his lifetime. From an Abilene Athletic Association baseball cap, to a World War II battle helmet, to the fedora Eisenhower often wore as president, students learn how each part of Eisenhower's life helped him develop or exhibit good character and how that character shaped his leadership style.
To register, please fill out our on-line forms here...
FALL 2017 - September 18 to November 10
SPRING 2018 - April 3 to May 25
Questions? Contact us via e-mail at john_joyce@nps.gov or call (717) 338-4415.

CLASSROOM VERSION
Can't do a field trip? Contact us and we may be able to schedule a ranger to visit and do a classroom version of Molding of a Leader.
To register for the classroom program: Contact us at john_joyce@nps.gov or call (717) 338-4415.
Teachers will receive a Molding of a Leader lesson plans folder. Lesson plans are also available on- line HERE.