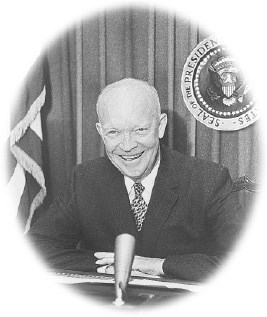 THE EISENHOWER ACADEMY, a summer institute for teachers, will be held July 26 - 31, 2015 at Gettysburg College and Eisenhower National Historic Site. This professional development opportunity is sponsored by the National Park Service, Gettysburg College, Mount St. Mary's University, and The Dwight D. Eisenhower Society and presents an in-depth perspective of Dwight D. Eisenhower as president and world leader.


TEACHING THE 1950s: IKE & COLD WAR AMERICA
Academy sessions introduce effective strategies for teaching the Cold War in the classroom and include:


New scholarship on the Eisenhower Presidency.
Field trips, lectures, and discussion on the 1950s including the Cold War, civil rights, and popular culture.
A visit to the Eisenhower National Historic Site to get an intimate glimpse into Eisenhower's life and times.
Opportunities to learn about and use primary source documents, film and video footage, and the World Wide Web as research tools.
A walk through historic Gettysburg exploring Eisenhower's life and times in the community.
ACCOMMODATIONS, CLASSROOMS, AND COST
Classroom sessions and accommodations are at Gettysburg College, a block from historic downtown Gettysburg. Accommodations include air conditioned classrooms and dining hall, private dormitory room and bath, library, and recreational facilities.

The Academy, including classroom seminars, document package, field trips, banquet dinner, Eisenhower Farm picnic, single occupancy lodging and lunches, costs:
$715.00 (Early registration by April 1)
$770.00 (Registration through July 3)
$490.00 (Day student rate)
Scholarships are available for teachers from Title 1 schools and schools with a large percentage of free and reduced lunch students.
Scholarship Application
CONTINUING EDUCATION AND GRADUATE CREDITS
Two Pennsylvania Professional Education Credits (60 Act 48 CEUs) are available for attending the Academy.

Three graduate credits are available for an additional fee of $1395.00 through the Mount St. Mary's Master of Education program. To receive credit, students will complete course assignments and lesson plan, and attend all sessions of the Academy.


A DISTINGUISHED AND DIVERSE FACULTY
Dr. Michael Birkner, History Department, Gettysburg College. His books include Dwight D. Eisenhower (American Presidents Series).
Dr. George Colburn, writer and producer of the prime time documentary, The Eisenhower Legacy.
Ms. Susan Eisenhower, author of Mrs. Ike, Memories and Reflections on the Life of Mamie Eisenhower.
Ms. Carol Hegeman, Supervisory Historian (retired), Eisenhower National Historic Site, author of the lesson plan, Thaw in the Cold War: Eisenhower and Khrushchev at Gettysburg.

Dr. Brian Jones, History Department, Johnson C. Smith University, author of Abolishing the Taboo: Dwight D. Eisenhower and American Nuclear Doctrine 1945 -1963.
Dr. M A. Kibler, Department of American Studies and Women & Gender Studies, Franklin and Marshall College.
Dr. David Nichols, author of A Matter of Justice: Eisenhower and the Beginning of the Civil Rights Revolution.
Dr. Keith W. Olson, History Department, University of Maryland College Park. His current research topic is Eisenhower and civil rights, his books include The GI Bill, the Veterans, and the Colleges.
Mr. Bradley Patterson, Deputy Cabinet Secretary, 1954-61.
Ms. Lee Ann Potter, Education Specialist, Library of Congress.
Dr. David Schuyler, Department of American Studies, Franklin and Marshall College. Author of A City Transformed: Redevelopment, Race and Suburbanization in Lancaster, Pennsylvania 1940 - 1980.
Dr. Cotten Seiler, Department of American Studies, Dickinson College.

Mr. Chris Tudda, Historian, Department of State
Dr. Daun Van Ee, Editor, The Papers of Dwight D. Eisenhower, Library of Congress.
FOR MORE INFORMATION contact John Joyce at (717) 338-9114 ext. 4415 or e-mail us.