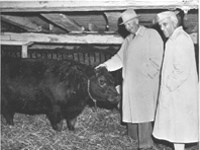 This 1 3/4 hour ranger facilitated program for grades 7 - 12 examines the visit by Prime Minister Jawarahal Nehru of India to the farm within the context of the Cold War crises confronting the world in 1956. Students assume the role of state department personnel, and using primary source documents, develop a plan for Nehru's visit. Decisions must be made related to agenda, protocol, security, etc. Attendance at the Teacher Workshop in November is required prior to participation in this program.
Conflict: A Visit by a World Leader is the culminating site visit for the lessons in the Conflict and Conflict Resolution Lesson Plan, a Parks as Classroom program. Lesson plans in the teaching package cover:
1. Conflict and Its Resolution
2. Causes of International Conflict
3. Eisenhower and His Times
4. Conflict and the Eisenhower Administration
5. How Eisenhower Handled Conflict
The five lesson plans are flexible enough so that either one or all five can be used prior to the site visit. Teachers will receive a Conflict! The Eisenhower Years lesson plan folder upon registering for the program. Lesson plans are also available HERE.
Call (717) 338-9114 Ext. 4411 or fax/mail the form below to register for the program:
Student Education Program Registration Form
The half-day Teacher Workshop, scheduled for Tues., November 4, 2014, includes classroom and field study, and will familiarize teachers with the site and the classroom lessons in the teaching package. Call (717) 338-9114 Ext. 4411 or fax/mail the form below to register for the workshop.
Conflict Teacher Workshop Registration Form