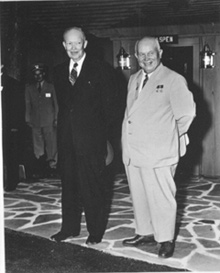 Thaw in the Cold War: Eisenhower and Khrushchev at Gettysburg is a Teaching with Historic Places lesson plan developed for Eisenhower National Historic Site. Teaching with Historic Places uses properties listed in the National Park Service's National Register of Historic Places to enliven history, social studies, and civics. One of its main offerings is a series of classroom-ready lesson plans created by NPS interpreters and educators to examine developments throughout American history.
Thaw in the Cold War delves into the superpower meeting between President Eisenhower and Soviet Premier Nikita Khrushchev, leading students to discover how Eisenhower's brand of diplomacy at his Pennsylvania farm temporarily eased the tensions of the Cold War. This lesson plan is available for free at the Teaching with Historic Places website.
To arrange a site visit (standard group rate applies) with a ranger-led tour focusing on the Eisenhower - Khrushchev meeting, contact us at john_joyce@nps.gov or call 717-338-4415.