Lesson Plan
Thaw in the Cold War: Ike and Khrushchev in Gettysburg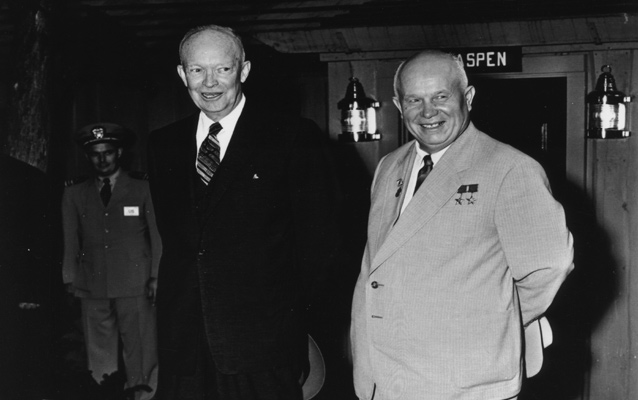 Grade Level:

Fifth Grade-Twelfth Grade

Subject:

Cold War, History, Leadership, U.S. Presidents

Duration:

2 hours

Group Size:

Up to 36

Setting:

classroom

National/State Standards:

PA Education Standards
History/Social Sciences - 8.1.9 A, 8.1.9 B, 8.1.9 C, 8.1.12 A, 8.1.12 B, 8.1.12 C, 8.3.12 A, 8.3.12 B
Overview
Thaw in the Cold War delves into the superpower meeting between President Eisenhower and Soviet Premier Nikita Khrushchev, leading students to discover how Eisenhower's brand of diplomacy at his Gettysburg farm temporarily eased the tensions of the Cold War.
Objective(s)
1. To define and describe the Cold War.
2. To explain Eisenhower's personal style of diplomacy and how he used it effectively during the Cold War.
3. To describe the role that Eisenhower's Gettysburg farm played in easing Cold War tensions.
4. To analyze and evaluate public papers and transcripts of presidential news conferences.
5. To investigate the impact of the Cold War period on their own community.
Background
Thaw in the Cold War: Eisenhower and Khrushchev at Gettysburg is a Teaching with Historic Places lesson plan developed for Eisenhower National Historic Site. Teaching with Historic Places uses properties listed in the National Park Service's National Register of Historic Places to enliven history, social studies, and civics. One of its main offerings is a series of classroom - ready lesson plans created by NPS interpreters and educators to examine developments throughout American history.
This lesson could be used in American history units on the Cold War, or in government and world affairs courses for units on negotiation and conflict resolution. Students will sharpen their skills in using primary documents and in interpreting maps and visual data.
This lesson plan is available at the Teaching with Historic Places website.
Materials
Primary source documents and images available at the:
Teaching with Historic Places website