Lesson Plan
Molding of a Leader: Introduction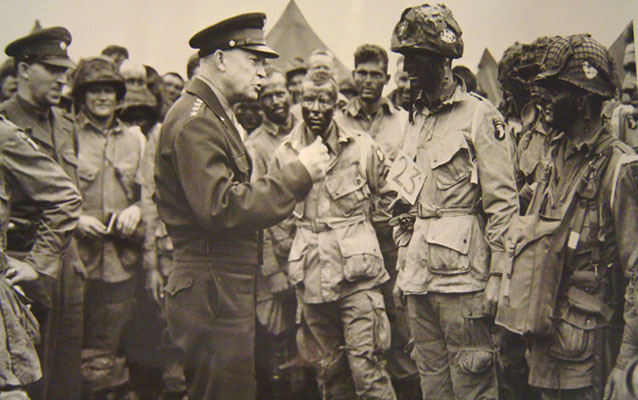 Grade Level:

Fourth Grade-Fifth Grade

Subject:

History, Language Arts, Reading, U.S. Presidents, World War II, Writing

Duration:

45 minutes

Group Size:

Up to 36

Setting:

classroom

National/State Standards:

PA Education Standards:
English/Language Arts
1.2.5 A, 1.5.5 B, 1.6.5 D
Overview
The Molding of a Leader is a character education program for 4th and 5th grade students focusing on Eisenhower's leadership ability and the trust others had in him as both Supreme Commander and 34th President of the United States. Five lesson plans challenge students to learn about the character traits that helped mold Eisenhower into such an effective leader and consider how to develop and demonstrate those same character traits in their own lives.
Objective(s)
Students will read a short biography of President Eisenhower.
They will then choose three important facts from his life and write a short speech to introduce the President to their PTO as a guest speaker.
Background
Dwight D. Eisenhower held many positions of leadership and trust during his life span of 78 years. Among his most critical roles were his leadership as Commander of the Allied Forces in Europe during World War II and as leader of the free world during his presidency from 1953 to 1961. This proposed teaching package introduces students to this great American, but also challenges them to learn about his positive character traits that helped to develop his leadership skills.
This proposed teaching package is designed to appeal to all types of learners-visual, auditory, and kinesthetic. It fosters critical thinking skills as students read, write, listen, analyze, draw conclusions, and make connections to their own lives. The teaching package will include an introduction plus 5 lessons and a site visit.
Check out the other lessons:
Lesson 1 - Defining a Person of Character
Lesson 2 - The Development of Character Over Time
Lesson 3 - Getting on the Right TRRACC - Ike's Stories
Lesson 4 - Defining Responsibility
Site Visit - President Eisenhower : "A Man of Many Hats"
Lesson 5 - Post Visit - Get on the right TRRACC,Trustworthy, Respectful, Responsible, Accountable, Caring, and Citizenship
Materials
Molding of a Leader: Introductory Lesson Material
Includes: Dwight D. Eisenhower: An Overview, Task Sheet, Planning Triangle
Procedure
 PROMPT:
Our Guest Speaker: President Eisenhower. The annual President's Day assembly will be taking place this week. The school planning committee has invited President Eisenhower to be the guest speaker for the event. Each student has been asked to introduce the President to the audience of students and parents.
Task 1
Have students reread the overview on President Eisenhower's that you have just read to them and pick out significant facts that they feel the audience would like to know about him. The triangle organizer will help them gather and organize the information they want to use in the introductory speech.
Task 2
Once they have collected their facts, students write their introduction. They will only have one minute to read it to the audience. Because of the time limit, it must be no more that one notebook page long.
Assessment
Optional Rubric Scoring
1. Introduction has at least three facts about the life of Preesdient Eisenhower. It is written in paragraph form with no spelling or punctutation errors. A topic and closing sentence are included. Handwriting is legible.
2. Introduction has at least three facts about President Eisenhower. Paragraph form is not evident. There are some spelling and punctuation errors but the paragraph is still readable. Handwriting is legible.
1. Introduction has less than three facts about President Eisenhower. Spelling and punctuation errors make the introduction difficult to read. Handwriting is legible.
NSR. Response is illegible and has numerous errors and omissions.
Last updated: January 2, 2018