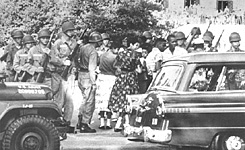 Eisenhower and Civil Rights investigates President Eisenhower's role in advancing civil rights for African Americans. Via Power Point presentation and interactive activities, students learn about the early civil rights movement and how each branch of federal government promoted and/or impeded African Americans efforts to achieve equality under the law.
The program covers Eisenhower and:
* The desegregation of Washington DC
* Supreme Court appointments
* Brown vs. Board of Education
* The Civil Rights Act of 1957
* The integration of Central High School.
The program also explores how the President could have lent more support to Brown vs. Board of Education, the Montgomery Boycott, and civil rights legislation. Students will analyze primary source documents from the era that show divergent public opinion on civil rights, including a letter from Jackie Robinson criticizing Eisenhower's insistence on patience in the pursuit of civil rights.
At the end of the program students use critical thinking to form their own opinions about whether Eisenhower did enough to support civil rights. The program is conducted by a park ranger in the classroom and takes about 80 minutes or one block scheduling period to complete.
If your school does not have block scheduling two alternatives are available: 1) A 40- minute Power Point program with a Park Ranger with the teacher conducting the document activity with provided materials the following day. 2) Special scheduling arrangements to keep the class together for two periods.
Grades 7-9 Class Size: 30 max. / 10 min. Length: 80 minutes.
To register: Contact us at john_joyce@nps.gov or call (717) 338-4415.