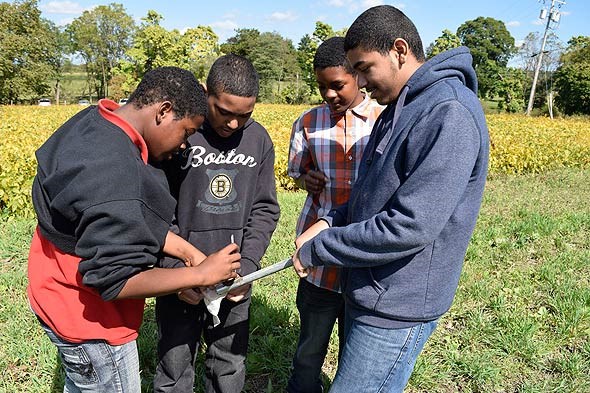 "LEAVING THE LAND BETTER THAN HE FOUND IT": HANDS ON FIELD STUDIES AT EISENHOWER'S FARM
One of Eisenhower's goals when he bought his farm in Gettysburg was to leave the land better than he found it. Today, in a world of depleting resources and pollution, that goal is more important then ever. Through four new interactive sessions, students will have the opportunity to analyze soil samples and learn how to effectively manage our croplands; test a local stream for pollutants; see how trees work and learn to identify them; and experience changes in habitat while identifying the creatures that live there.

The Agricultural Science and Environmental Science Programs listed below are sponsored by the National Park Service. Some are offered with an optional *Advancing Science lab. Each session offers students grades 5 through 12 the opportunity to learn about the environment through real science in the field. Sessions range in length from 11/2 to 3 hours. The topics covered are included in the annual Envirothon Competition. .
Soil - Introduction to local geology, soil formation, sustainable farming practices, testing soil quality for chemical makeup, physical structure and biological components, erosion activity. *Advancing Science lab on soil ph or groundwater/enviroscape models
Water - Introduction to the water cycle and watersheds with an Enviroscape model, stream study for water quality through water testing and macro-invertebrate survey. *Advancing Science lab on water quality testing and on ground water pollution with groundwater model.
Wildlife - Habitat, niche, adaptations, the food web, endangered species, wildlife management, biological diversity, wildlife habitat assessment.
Forestry - Trees as renewable resources, natural cycles, succession, limiting factors, dendrology, evaluation of riparian forest buffer, *Advancing Science lab - Measuring oxygen from a leaf.
Programs are available at no charge to educators of 5th through 12th grade students and may be scheduled in combination. *The optional Advancing Science labs (Advancing Science is the Science Outreach Program at Gettysburg College.) are only available to schools from Adams, Cumberland, Dauphin, Franklin, Perry, and York Counties. Teachers wishing to use the Advancing Science laboratory activities as part of their field trip should attend an Advancing Science workshop prior to visiting the site.
For more information and to register please e-mail us or call 717-338-4411.