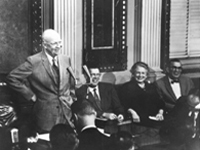 This two hour ranger guided program for grades 5 - 8 acquaints students with the man behind the legend. Students will examine Eisenhower's early years in Abilene, at West Point and in the military. They will identify the values and characteristics important in developing his leadership skills and learn how he employed those skills as president.

PowerPoint as well as Eisenhower's own writings are used to explore his years in Abilene, West Point, and the military.

Eisenhower's presidential leadership is assessed in a recreated press conference with the students assuming the role of the press and questioning the president about the important issues of the day.

A tour of the Eisenhower home and grounds reveals how Eisenhower used the farm during his presidency to help ease world tensions, and how he remained a respected world leader even in retirement.
To register, contact us at john_joyce@nps.gov or call (717) 338-4415. Eisenhower, A Five Star American is two hours in length. Programs are offered from April through May and again in the Fall from mid-September to the end of October.