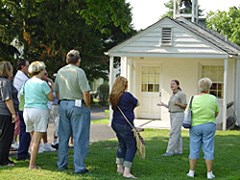 Volunteer Opportunities
Eisenhower NHS relies on volunteers to assist the park staff in presenting programs to the public and to maintain the upkeep of buildings, grounds, artifacts, and research materials. A variety of volunteer opportunities are available. more...
Internships
Twelve week interpretive and curatorial internships are available for the 2018 summer season. Stipends and housing are provided. more...
Donations
Eisenhower NHS welcomes donations to assist in our efforts to preserve the site, make acquisitions for the museum collection, and support our education programs. more...