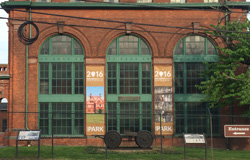 Several times a year, Thomas Edison National Historical Park puts out a park newsletter. It includes things happening in the park, upcoming special events, and even a section on park employees. The newsletters are available here in PDF format. Just click on date you wish to read. Enjoy!
The
Fall 2016 edition of the Laboratory Notebook
is out. Find out about how we celebrated the NPS Centennial - August 25th. There are also articles about the Park Exchange at the Brooklyn Bridge Park, our busy summer and our summer interns, Edison entering the National Capitol, and the New Jersey National Parks saluted at the State Capitol. Have fun learning about the park.