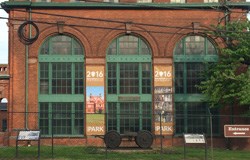 Several times a year, Thomas Edison National Historical Park puts out a park newsletter. It includes things happening in the park, upcoming special events, and even a section on park employees. The newsletters are available here in PDF format. Just click on date you wish to read. Enjoy!
The
Summer 2017 Laboratory Notebook
is out. There is lots of news at the park, from a
new exhibit to conservation work at Glenmont to Early Edison Cylinders being added to
the National Recording Registry. Check it out and let us know what you think on our social media pages @ThomasEdisonNHP.