Online Games
Be an Inventor
See if you can invent like Edison
Explore Edison's Laboratory Complex and see how Thomas Edison had a room or building for various steps of his invention process.
Can you pick out the right material for the light bulb filament? Can you pick out the right shape? Play the game and see if YOU can build a working light bulb.
How hard can inventing be? See if you can make the right decisions to steer the Edison Team to successfully invent the motion picture camera.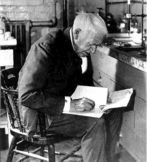 The Edison Test

If you wanted to work as an executive for Thomas A. Edison, Incorporated in the early 1920s, you had to pass a test. Edison himself chose the questions, which included topics such as astronomy, economics, geography, history, and even literature! The inventor believed that an intelligent, well educated person should know most of the answers. After all, he knew them and he had never been to college. In fact, he was mostly home schooled by his mother. Not so different than many kids today!
The Edison Mental Fitness Test
Follow us on Twitter!

Want to see pages from Thomas Edison's journals, candid photographs from the 19th century, and more? There's no better place to get a daily dose of the great Thomas A. Edison, than our
Twitter
feed. See you in the twitterverse!
Last updated: September 16, 2020