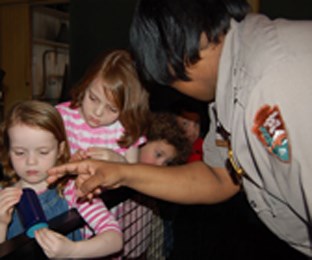 Education Programs Offered:
**UPDATE**
We are now booked for the 2017/2018 school year.
We will be taking reservations for the 2018/2019 school year starting Wednesday, August 15, 2018. We will also be using Sign Up Genius to reserve select dates. There will be a link here starting August 15th where you can sign up your class...not all dates will be posted on Sign Up Genius. Other dates will be available but you must call for those.
The minimum group size is 15 and the max group size is 30.
Our scheduled times are 9:30 and 11:00 Wednesday, Thursday and Friday only.

If you can not come to the park we can bring the park to you through Skype in the Classroom. If you are interested please schedule through this link:
Skype in the Classroom
If you have any questions please call:
973-736-0550 ext. 33. I am available Wednesday - Sunday 8:45 - 5:15.

For more information, please e-mail our Group Tour Coordinator
Idea to Product- Edison's Invention Process- Grades 3 - 6
Students spend time exploring Thomas Edison's Laboratory and learning about his invention process. This is a basic program on the life and inventions of Thomas Edison. It explores how Edison and his staff went from a simple idea to a finished product. The program finishes with the students creating their own invention through a hands-on activity. Program lasts 1 1/2 hours.

New Jersey Core Curriculum Standards:

Science Practices
5.1.4.A.2 Connections developed between fundamental concepts are used to explain, interpret, build, and refine explanations, models, and theories. Use outcomes of investigations to build and refine questions, models, and explanations.
5.1.4.C.1 Scientific understanding changes over time as new evidence and updated arguments emerge. Monitor and reflect on one's own knowledge regarding how ideas change over time.
5.1.4.D.2 In order to determine which arguments and explanations are most persuasive, communities of learners work collaboratively to pose, refine, and evaluate questions, investigations, models, and theories (e.g., scientific argumentation and representation). Work collaboratively to pose, refine, and evaluate questions, investigations, models, and theories.
Social Studies
6.1.4.C.12 Creativity and innovation affect lifestyle, access to information, and the creation of new products and services. Evaluate the impact of ideas, inventions, and other contributions of prominent figures who lived New Jersey.
6.1.4.C.16 Creativity and innovation have led to improvements in lifestyle, access to information, and the creation of new products. Explain how creativity and innovation resulted in scientific achievement and inventions in many cultures during different historical periods.
21st Century Life and Career Skills
9.1 The ability to recognize a problem and apply critical thinking and problem-solving skills to solve the problem is a lifelong skill that develops over time.
4.A.1 Recognize a problem and brainstorm ways to solve the problem individually or collaboratively.
4.A.2 Evaluate available resources that can assist in solving problems.
4.A.5 Apply critical thinking and problem-solving skills in classroom and family settings.
9.1 Brainstorming activities enhance creative and innovative thinking in individual and group goal setting and problem solving.
4.B.1Participate in brainstorming sessions to seek information, ideas, and strategies that foster creative thinking.
9.1 Collaboration and teamwork enable individuals or groups to achieve common goals with greater efficiency.
4.C.1Practice collaborative skills in groups, and explain how these skills assist in completing tasks in different settings (at home, in school, and during play).
9.1 Effective communication skills convey intended meaning to others and assist in preventing misunderstandings.
4.D.1Use effective oral and written communication in face-to-face and online interactions and when presenting to an audience.