Yampa Bench Road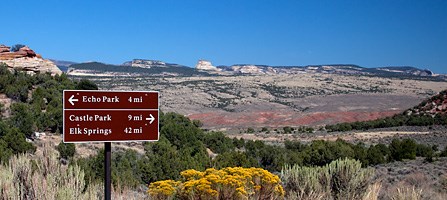 The 18-mile Yampa Bench Road connects the Echo Park Road with the monument's southeast boundary. From there, several Moffat County dirt roads lead to US Highway 40. The Yampa Bench Road runs along a large "bench" or flat area above the Yampa River. Several viewpoints, trails and historic sites provide access to the area's dramatic scenery and history. Wildlife such as mule deer, elk, pronghorn may be occasionally seen.
The road is winding with some narrow and short steep sections. A few small stream crossings may hold water and mud for extended periods. Several areas of the road also cross soft sand deposits. Under favorable weather conditions, the Yampa Bench Road is considered relatively easy for high-clearance, four-wheel-drive vehicles. Extreme caution is required for both vehicles and bikes during periods of inclement weather. Areas of sand and mud may be impassable when wet. All vehicles and bikes must remain on roads. ATVs and non-street legal dirt bikes are not permitted on the Yampa Bench Road. High clearance vehicles are highly recommended. Camping is not permitted along the Yampa Bench Road.
Drive Carefully!
Make sure your vehicle is in good shape and that you drive appropriately for the terrain and road conditions. Towing charges are very expensive. Visitors caught in the backcountry with disabled vehicles may face towing fees in excess of $1,000.
Come Prepared!
There is no potable water along the entire length of the Yampa Bench Road. This is an arid environment. Summer temperatures often exceed 100° F. Bring at least 1 gallon of water per person, per day - more if you'll be active.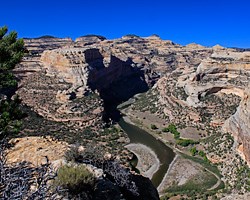 Scenic Views
Several overlooks provide viewpoints to see the winding path of the Yampa River deep in the canyon below. The north face of Blue Mountain rises above the south side of the road.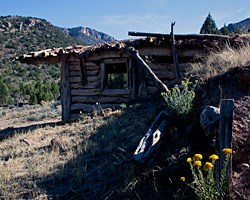 Area History
Several historic homesteads and ranches are located in the Yampa Bench area. Some have only remnants left, others are still working. The Mantle Ranch located along the Yampa River is private land and not accessible to the public. Occasionally, drivers, bikers or hikers may encounter cattle that are grazing on historic leases within the monument boundaries.
Last updated: September 14, 2012