Hog Canyon Trail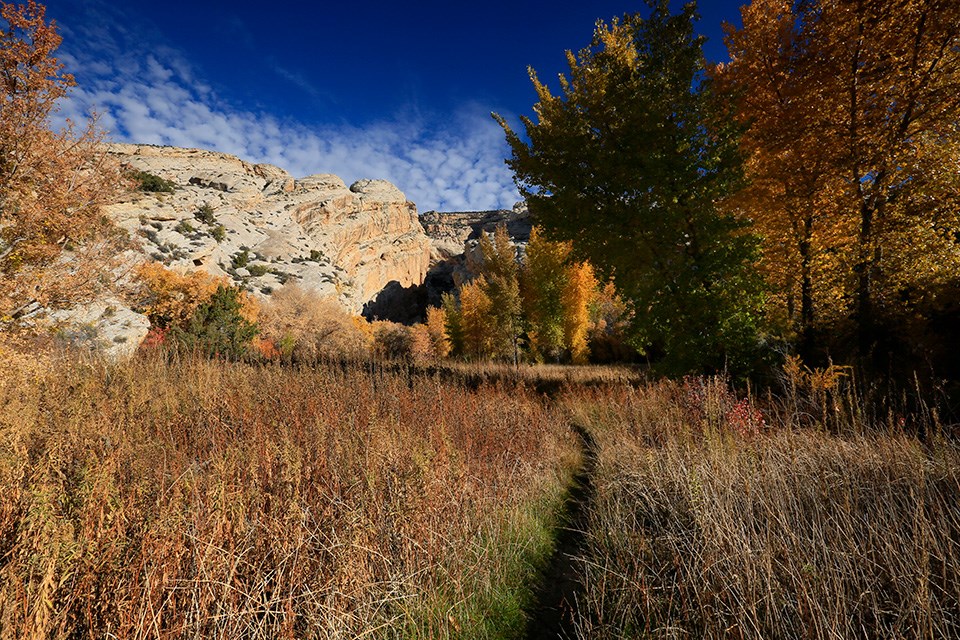 Length
1½ miles round trip. Not a loop.
Level of Difficulty
Easy.
Trailhead Location
End of the Cub Creek Road (Tour of Tilted Rocks Auto Tour) at Josie's Cabin, 10 miles east of the Quarry Visitor Center.
Your Safety
Be prepared for desert hiking: Take a hat, sunscreen, and water.
Let someone know where you are going and when you are due back.
Wear comfortable shoes, such as hiking boots or athletic shoes. Open-toed shoes are not recommended.
Watch for wildlife. This is mountain lion country. Keep small children close.
Rules and Regulations
Pets are not allowed on this trail or in the monument's backcountry.
Carry out all trash.
Collecting artifacts, fossils, plants, or other objects is prohibited.
Do not feed or approach wildlife.
Description
A relatively level walk into a box canyon. This trail is good even on a hot summer day. Excellent for small children. Nice exposures of the craggy Weber sandstone of Split Mountain. The National Geographic Trails Illustrated map of Dinosaur National Monument is available from the monument bookstore.
More Information
Take a Hike

Hiking is a great way to appreciate Dinosaur's scenery and rugged landscape. Miles of trails and cross-country opportunities exist.

Places to Go

Covering over 210,000 acres, Dinosaur National Monument offers a wealth of places to explore.

Check out our safety advice to make sure your trip is an enjoyable one.


Last updated: May 22, 2020