Cyanobacteria Detected in the Green River in Dinosaur National Monument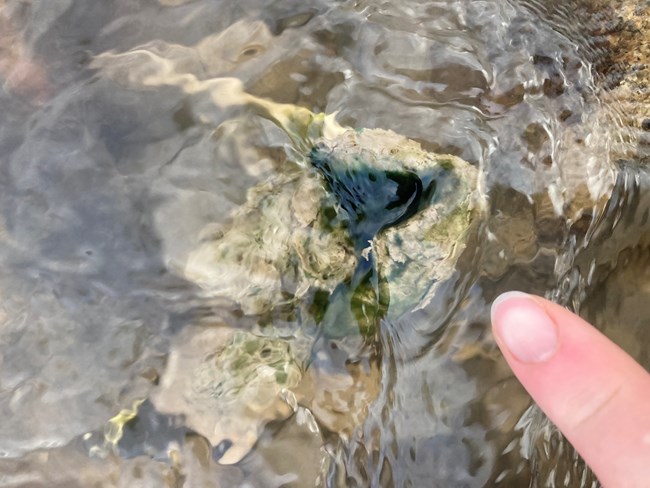 A recent test of an algal mat collected near the Split Mountain Campground detected potentially toxic cyanobacteria in the Green River. Certain types of algal blooms can produce toxins called cyanotoxins, which can be harmful to humans and animals. Test results from the collected sample revealed the presence of both
Microcoleus autumnalis
and
Microcoleus anatoxicus
. Microcoleus has been shown to have the ability to produce both liver toxins and neurotoxins (microcystins, cylindrospermopsin, anatoxins, saxitoxins).
Because this was an isolated collection, the monument is signing areas above and downstream of the collection location with a Health Watch. During a Health Watch, recreators should avoid primary contact recreation such as swimming or submerging the head in the signed area. Do not drink water from the Green River. Carry in water or filter directly from a spring source in the monument backcountry.
Monument staff will work with Utah Department of Environmental Quality and the TriCounty Health Department to carry out further, more deliberate surveying to determine if there is abundant cyanobacteria growth near high recreation areas such as campsites and to deploy sampling tools to see if toxins are being produced in the Green (and perhaps Yampa) River.
Toxic algae, also known as blue-green algae, is common and natural to waters and found throughout Utah and Colorado. The algae can multiply rapidly to form blooms and scums, particularly in areas of shallow, warm water. Toxic algae can resemble thick pea soup or spilled paint.
Last updated: August 5, 2022