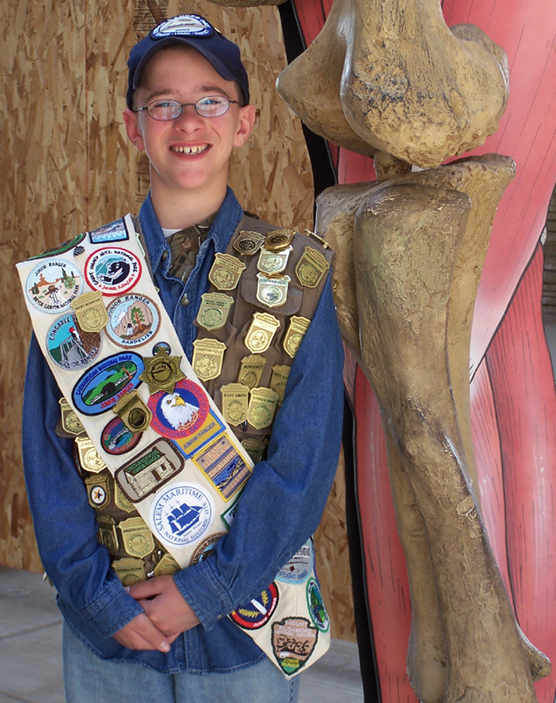 News Release Date:
May 17, 2008
Contact: Carla Beasley, (435) 781-7700
Barrett Young, age 12 of Paola, Kansas, earned Dinosaur National Monument's Junior Ranger and Junior Paleontologist badges during his visit to the Monument in early May. Beginning when he was just a year and a half old, Barrett has now completed 161 Junior Ranger Programs and visited over 180 National Park Service sites around the country.
Barrett's parents, Wayne and Dee, introduced him to the Junior Ranger program while visiting national parks as part of their family vacation. Today, Barrett is home-schooled. "[The National Park Service Junior Ranger Program] works well with home school curriculum," according to Dee Young. On their two-month trip, the Youngs and Jim, a family friend, will visit numerous parks in the West and Northwest to help Barrett expand his knowledge of American history and the environment.
"By visiting some of the national parks with living history demonstrations, I have gained a love and interest in re-enacting," said Barrett. "I really like re-enacting the French & Indian War, the Revolutionary War, and the Civil War."
Barrett volunteers at Fort Scott National Historic Site in Kansas, where he dresses in costume and portrays a child from the 1840s to 1860s. His zeal for events in the 18th and 19th centuries has Barrett considering a career related to history. Perhaps in the future, Barrett will add a National Park Ranger badge to his collection of Junior Ranger badges.
--NPS--