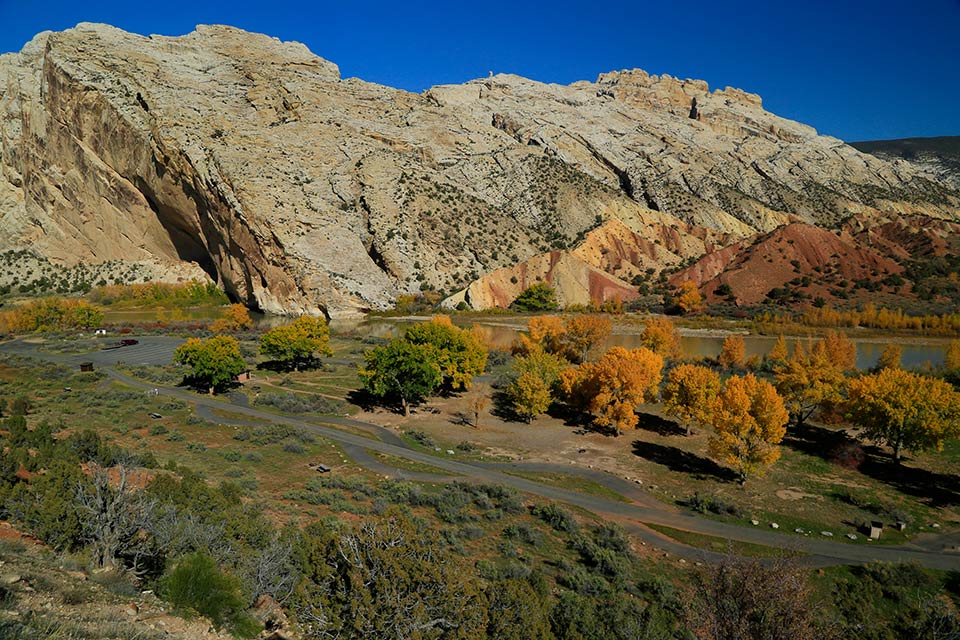 News Release Date:
August 29, 2017
Contact: Dan Johnson, (435) 781-7702
Dinosaur, Colorado & Jensen, Utah – On September 2nd, the Utah Symphony will perform in Dinosaur National Monument at the Split Mountain area. This concert is the last stop on a 1,200-mile "Great American Road Trip" of Utah, from August 29 to September 2, 2017. The mission of the tour is to connect with rural communities through free outdoor performances and educational activities that pay homage to the state's landscape, dark skies, and the country's Native American heritage.
The concert is free, but tickets from the Utah Symphony are required. All free tickets have been distributed for the September 2nd concert. Based on availability, walk-up tickets on the night of the concert may be offered. The "stand by" location for those who do not have tickets will be the Utah Welcome Center located on US Highway 40 in Jensen, UT. Attendance for walk ups at the event is not guaranteed. 
Look for signs on US Highway 40 and Utah State Highway 149 indicating parking and shuttle locations. Ticket holders will be required to park off-site in one of two unpaved lots just outside Dinosaur National Monument boundaries. One lot is located on the Chew Ranch, approximately two miles east of the Split Mountain area. The other lot is near mile marker 4 on Hwy 149, approximately one half mile south of the monument entrance. An accessible parking lot and shuttle will also be available at the Intermountain Natural History Association Office located immediately before the monument entrance. 
A large turnout is expected for this free concert. Monument staff have a few tips to make the event an enjoyable one.
Arrive early. Shuttles will start at 5:00 PM and will run continuously up to 7:30 PM to ensure all concert goers arrive at Split Mountain prior to the 8:00 PM concert start time. If you arrive at the last minute, you may not make the performance. Activities for early arrivals include a special performance by dancers, singers, drummers and storytellers from the Northern Ute Tribe.
Bring water and food. There is no food service and limited water available at the Split Mountain area.
Bring folding chairs or blankets to sit on. The symphony is providing a limited number of chairs and attendance is expected to exceed the amount of chairs available. You are welcome to sit anywhere in the campground area to enjoy the show and scenery.
Bring a jacket. While it is expected to be warm during the day, temperatures can drop dramatically after the sun sets.
Concert goers are encouraged to be prepared for parking in undeveloped lots by wearing sturdy shoes and bringing a flashlight.
Entrance fees are being waived for all visitors beginning at 5:00 PM on September 2nd. If you do plan on visiting the monument earlier in the day, entrance fees will be charged.
About the Utah Symphony
Founded in 1940, the Utah Symphony performs more than 175 concerts each season. With its many subscription, education, and outreach concerts and tours, the Utah Symphony is one of the most engaged orchestras in the nation. For more information visit
www.utahsymphony.org
. "We are honored to once again travel across our magnificent landscape and bring great live music to communities throughout the state," said Maestro Fischer.