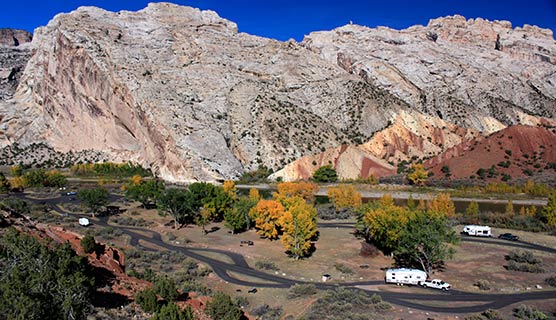 News Release Date:
February 20, 2013
Contact: Dan Johnson, Chief of Interpretation and Visitor Services, (435) 781-7702
Contact: Margaret Fedje, Fee Operations Supervisor, (435) 781-7741
Dinosaur, CO - Superintendent Mary Risser announced that reservations for the Split Mountain Group Campground in Dinosaur National Monument are now available for the peak season (April 19 through October 6) through the online system managed by Recreation.gov. During the rest of the year, campsites are available on a first come, first served basis.
Previously, monument staff managed reservations for the Split Mountain Campground in house, but could not accept credit cards, and visitors could not make reservations online. "By going to Recreation.gov, we can now provide a level of service that most people have come to expect when they are planning their trips," stated Superintendent Risser.
Split Mountain Group Campground is located along the banks of the Green River approximately four miles from the dinosaur quarry and next to the Split Mountain Boat Ramp. The campground has four sites. During peak season, the campground is open to organized groups. Group size is 8 to 25 people per site. Water and restrooms with flush toilets are available during peak season. Showers and water, sewer and electric hookups for recreational vehicles are not available. Water may not be available during the non-peak season; fees are not charged when water is not available. More information is available on our website campground page which includes a link to make reservations through Recreation.gov  
Reservations for the group site at the Echo Park Campground are still managed by monument staff and cannot be made online. All other campgrounds in the monument are currently on a first come, first served basis with no reservations accepted.
For more information on Dinosaur National Monument including camping, call us at (435) 781-7700. You can also find us on facebook or follow DinosaurNPS on twitter.