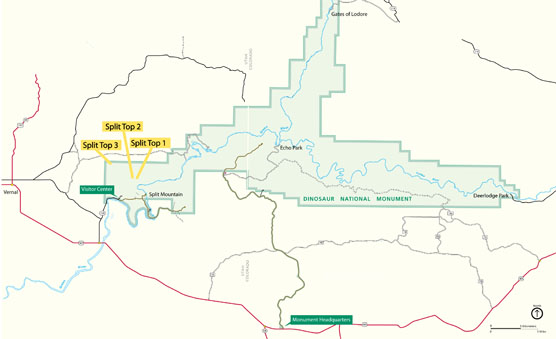 News Release Date:
August 26, 2008
Contact: Carla Beasley, (435) 781-7700
Last night's storms resulted in three lightning caused fires on Split Mountain within the boundaries of Dinosaur National Monument.
The three fires, named Split Top 1, 2 and 3, are located in a remote area about seven miles north of Jensen, Utah. Firefights are managing Split Top 1 and 2 by keeping the fire confined to a specified area, which will create a mosaic of vegetation in the landscape and improve wildlife habitat. Currently, Split Top 1 is approximately a quarter acre and Split Top 2 is approximately a tenth of an acre.
Two firefighters suppressed the Split Top 3 fire last night since it was burning in the Monument, but near the boundary with the Bureau of Land Management.
Projections based on current fire weather indicate that the Split Top 1 and Split Top 2 fires could grow together and possibly reach an approximate size of 200 acres over the next several days. Split Top 3 is expected to be 100% controlled later today. All Split Top fires will continue to be monitored today.