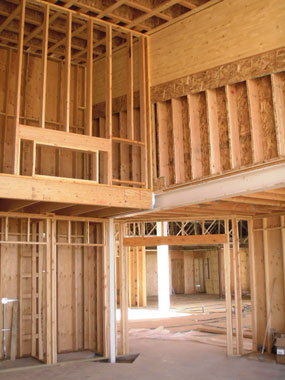 ---
Sept. 30, 2010
Quarry Visitor Center–The exterior framers have finished the majority of their work and most of the interior framing is also complete.
The new pedestrian bridge, connecting the parking lot and visitor center, was set this week. This is a bridge with an interesting history: it used to be a railcar! This recycled railcar is one of the sustainable features/green technologies that will be factored into the LEED (Leadership in Energy and Environmental Design) certification for the new visitor center.

There's more work to be done on the bridge/recycled railcar--including paving and stonework--but the wing walls, retaining walls, and abutments are all done and the earthwork contractors have backfilled at the abutments.The rough mechanical contractors have been on-site to lay out the vents and other locations where mechanical parts will penetrate the walls.
It's time to think about paint colors, but we're waiting to receive the sheet metal samples before finalizing color choices. The bridge will be a terra cotta color, and other exposed metal will be dark beige. The underside of the space frame in the exterior seating area will be a lighter color to reflect the light and brighten up the area.