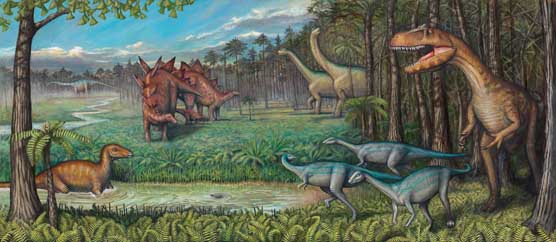 News Release Date:
January 7, 2010
Contact: Carla Beasley, 435-781-7700
Scientific illustrator intern, Liz Bradford donated original art that offers a view of what the ancient world of the dinosaurs might have looked to Dinosaur National Monument. The monument plans to use the art for various educational projects and will display a copy in the new visitor center.
Bradford researched the plants and animals that existed in the area millions of years ago during her 3-month internship at the monument. As she painted, Bradford took a picture of the canvas every hour and pieced them together in a 15-second video. To see how her artwork took shape, visit www.nps.gov/dino.