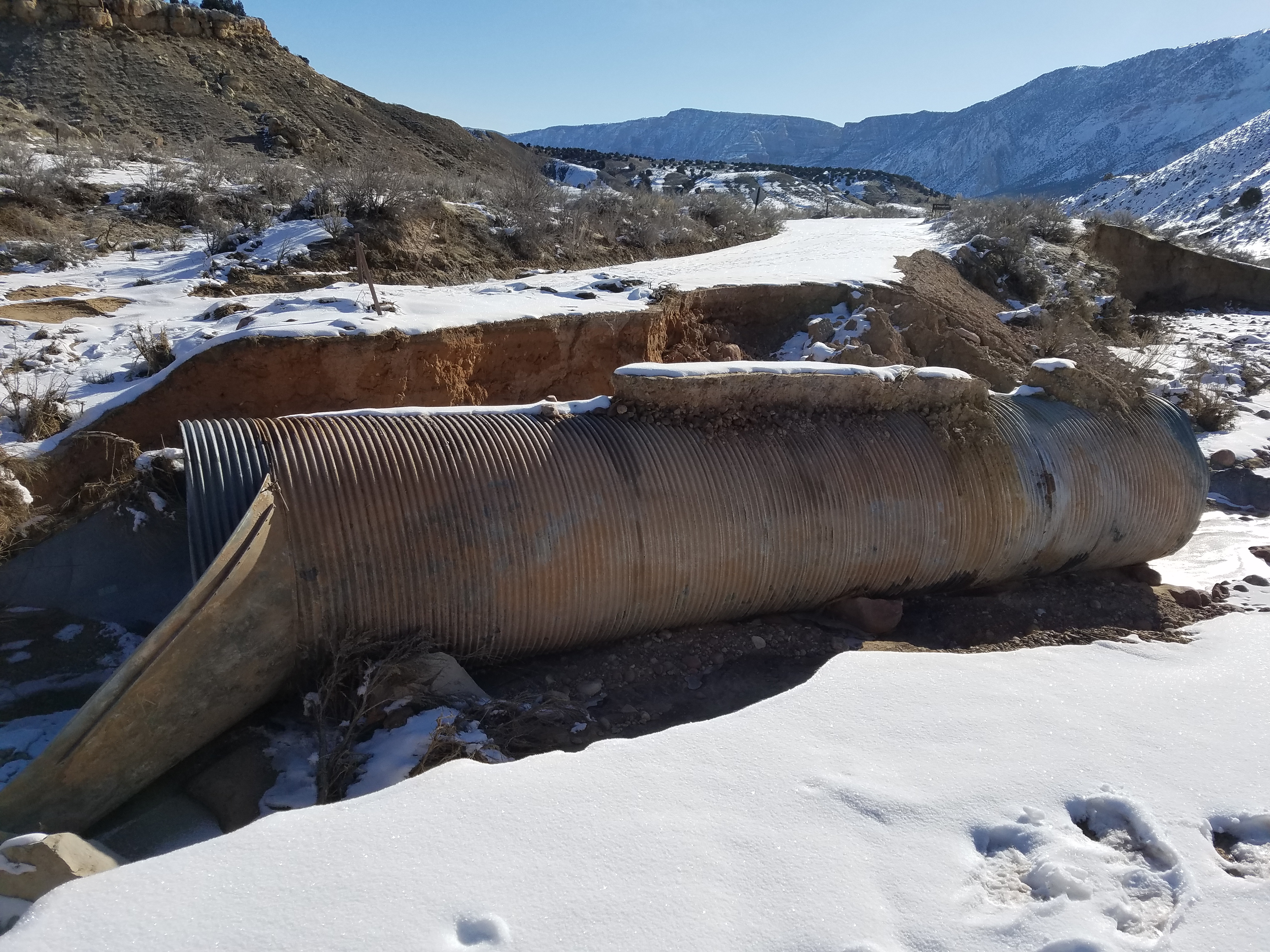 News Release Date:
March 2, 2017
Contact: Dan Johnson, (435) 781-7702
Jensen, UT & Dinosaur, CO – Acting Superintendent Eric Gabriel announced the immediate closure of the Rainbow Park/Island Park Road at the monument boundary due to significant road damage. The Rainbow Park Campground and Boat Ramp are not accessible due to the closure.  
During a patrol to check on the status of the Rainbow Park / Island Park Road on Thursday, March 2, 2017, a ranger discovered that a section of the road had washed out around a six foot diameter culvert. Staff had not been able to make a check of the road for several weeks due to snow and road surface conditions. The road is not maintained in the winter and has a clay surface in many areas which is extremely soft and slippery when wet.  
A full assessment of the road length has not been made and may reveal further damage. Since the washout is preventing vehicle access, any assessment will have to be made by foot when conditions permit. No information is available at this time on potential repairs or a reopening date.  
On September 23, 2016, a severe thunderstorm produced over 2.5 inches of rain in a short period of time and caused the washout of eight culverts along the road. The monument, along with staff from the Uintah County Road Department and Rocky Mountain National Park, made temporary repairs to reopen the road.
The Island Park/Rainbow Park Road is a 13 mile unpaved road located on the monument's northwest corner. The road provides access to the Rainbow Park Boat Ramp which is the launch point for single day rafting trips through Split Mountain Canyon. Also located in this area are the Rainbow Park campground, McKee Spring Petrogylyphs, and the remnants of the historic Ruple Ranch.  
Monument staff are reaching out to all permit holders for day rafting trips through Split Mountain Canyon to let them know of the closure. All future single-day river permits will be on hold until road repairs are made and the road is reopened.
This closure does not affect visitor access to the Quarry Visitor Center or the Quarry Exhibit Hall where visitors can see the dinosaur fossils.  
For more information, call (435) 781-7700 or follow DinosaurNPS on social media.