Quarry Construction Background
The Quarry Visitor Center has experienced continuing problems with foundation movement since its construction on expansive soils in 1957. The building was closed in July 2006 due to the serious life and safety hazards caused by this movement.
In April 2009, Secretary of the Interior Ken Salazar announced a $13.1 million investment to demolish and replace condemned portions of the Quarry Visitor Center at Dinosaur National Monument. The Quarry Visitor Center project is one of nearly 800 projects totaling $750 million that can be completed across the country with funding from the American Recovery and Reinvestment Act of 2009 (ARRA).
Advanced Solutions Group, L.L.C. (ASG) out of Kaysville, Utah was selected for the project and began work mid-March, 2010. The construction is scheduled to last between 12 and 18 months. The visitor center reopening is anticipated to be fall 2011. A temporary visitor center just outside the park boundary about 4 miles north of Jensen, Utah on route 149 will serve visitors until the new facilities are open.
Get updates of progress on our construction blog.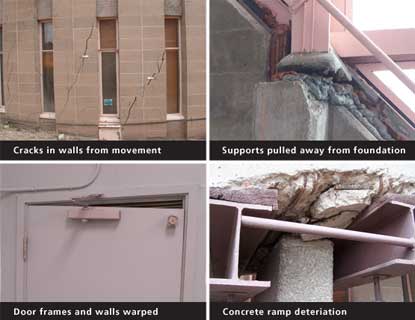 Last updated: February 24, 2015