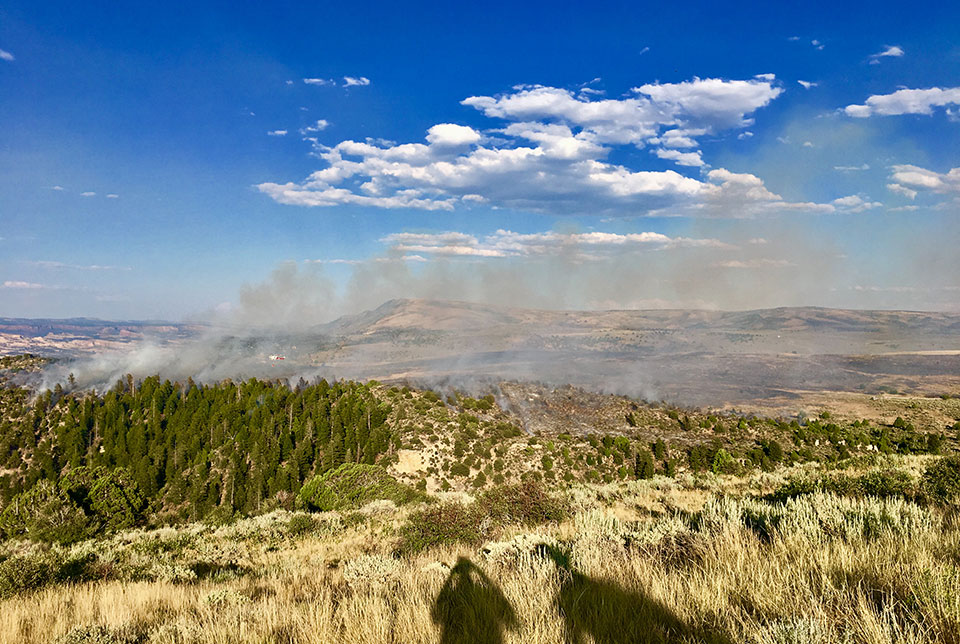 News Release Date:
July 24, 2017
Contact: Dan Johnson, (435) 781-7702
Contact: Ross Oxford, (970) 629-1908
Dinosaur, Colorado & Jensen, Utah – The Overlook Fire, which started on July 21 from a lightning strike, flared up on Sunday. The fire is estimated to be approximately 260 acres and is located near the Canyon Overlook on the Harpers Corner Road. The fire is on National Park Service (NPS), Bureau of Land Management (BLM), and private land.
An interagency crew consisting of seven engines from NPS, BLM, US Forest Service (USFS), Moffat County, and Artesia fire departments has responded. Two medium helicopters from Colorado Department of Fire Prevention and Control are also currently assigned to the fire. The fire has also been using an air attack platform to direct the work of four single engine air tankers to aid with containment efforts.  A small Interagency Type 3 team is currently managing the fire to safely contain the fire which is burning in grass, sagebrush, and timber.
Progress was made on containment efforts on Sunday on the west, south, and east flanks of the fire. The north side, which is in the monument, is currently the most active area with the fire burning in a steep, timbered canyon that has several large dead trees or snags.  Crews will continue to work where they can do so safely to contain the fire.  
The Canyon Visitor Center is open. Harper's Corner Road is also open, but could be subject to closure if the fire moves to the west towards the road. Canyon overlook is closed until further notice to support fire operations.
Operations at the Quarry Visitor Center and Dinosaur Quarry Exhibit Hall in Utah have not been affected by the fire. They remain open to the public on their normal schedule.