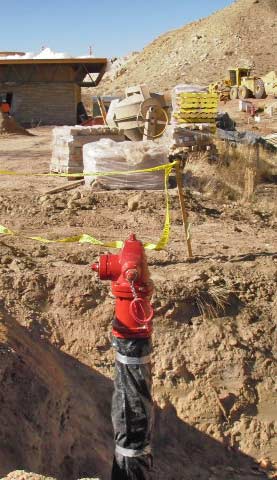 ---
November 29, 2010


Quarry Visitor Center – Installation of the exterior window frames is underway and approximately fifty-percent complete. The window openings have been enclosed using a reinforced poly material.
Much of the roof membrane has been installed: the sloped section of the roof has been completely covered, although detail work remains; the flat section of the roof is 60 percent covered.
Rough installation of the fire sprinklers is nearly complete. The fire riser and domestic water lines were pressure tested, and everything passed. A new fire hydrant has also been installed and tested.
Stonework is nearly complete on the building. Because of the cold temperatures, areas where the masons are working have been covered and heated to allow the grouting to set properly.
Rough grading around the site continues.
The rough installation of most of the plumbing, electrical, and mechanical is complete.