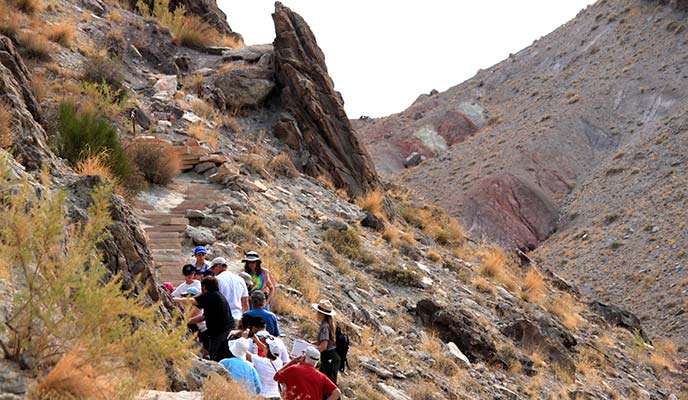 News Release Date:
April 16, 2013
Contact: Dan Johnson, Chief of Interpetation and Visitor Services, (435) 781-7702
Dinosaur, CO - To encourage people to explore America's natural beauty, rich history and culture, the National Park Service will waive admission fees during National Park Week, from Monday, April 22 through Friday, April 26, 2013. This includes Dinosaur National Monument located along the Colorado and Utah border. Each year, we take this time to celebrate what we all have inherited as Americans - 84 million acres of the world's most spectacular scenery, historic landmarks and cultural treasures. 
Whether it is your first trip, or the latest of many memorable park experiences, National Park Week is a chance for all Americans to get active while experiencing the amazing places that make up the national park system for FREE. Visit any of America's national parks and enjoy free admission all week long! For more information on National Park Week, visit www.nationalparkweek.org. The fee waiver applies to entrance fees only and does not include fees for special permits or camping. 
"Spring is a great time to visit Dinosaur National Monument," according to park superintendent Mary Risser. "Even with the recent cold temperatures and snow, wildflowers like phlox and paintbrush are beginning to bloom along the Sound of Silence Trail. Bighorn sheep, mule deer and other animals are bearing young. Birds are returning to their summer nesting sites. You can enjoy gazing at the wall of dinosaur bones in the Quarry Exhibit Hall before our peak summer visitation arrives. And this year, monument staff will be giving a number of special programs."  
On Saturday, April 20, a guided hike will be given on the Fossil Discovery Trail, starting at 10:00 am. On Saturday, April 27, the monument will host several activities in celebration of National Junior Ranger Day. At 9:00 am Cub Scout Troop 1442 will do a special flag raising ceremony at the Quarry Visitor Center followed by games and activities for families in and around the Quarry Exhibit Hall from 10:00 am to Noon.
For those planning a visit to Dinosaur National Monument during National Park Week, the Quarry Visitor Center on the Utah side of the monument is open daily from 9:00 am to 5:00 pm. The visitor center features exhibits, a park film and bookstore and also serves as the departure point for car caravans to the Quarry Exhibit Hall with its wall of dinosaur fossils. Caravans leave from the visitor center at scheduled times throughout the day. Visitors must first stop at the visitor center before driving to the Quarry. In addition to the fossil wall, the Quarry Exhibit Hall features exhibits about dinosaurs and other life from the Jurassic. For more information on the visitor center or exhibit hall, please visit the park website or call (435) 781-7700. 
On the Colorado side of the monument, the Harpers Corner Road is open. The Harpers Corner Road is a scenic 32-mile one way drive that leaves U.S. Highway 40 two miles east of Dinosaur, Colorado and provides access to several trails and views into the Green and Yampa River canyons. The Canyon Visitor Center, which is located at the start of the Harpers Corner Road, is open on Saturdays and Sundays.  
Remember that Dinosaur's weather is unpredictable and can change rapidly. Visitors should always be prepared for a range of conditions. Wildlife, like deer, elk, and bighorn sheep, may be seen. Please be alert for animals crossing the roads, particularly at dawn and dusk.
For more information on Dinosaur National Monument, call us at (435) 781-7700. You can also find us on facebook at www.facebook.com/DinosaurNationalMonument or follow DinosaurNPS on twitter.