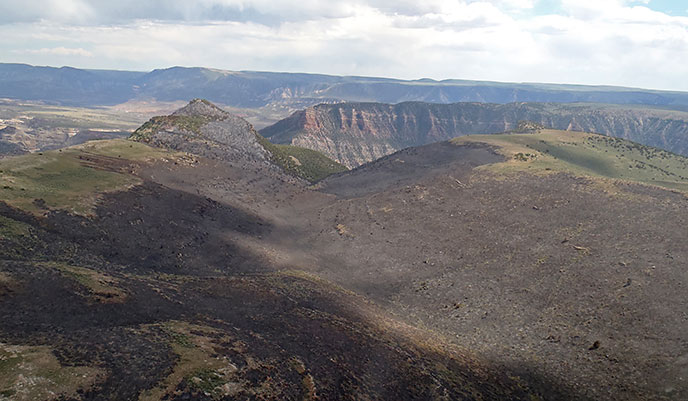 News Release Date:
June 18, 2013
Contact: Dan Johnson, (435) 781-7702
Dinosaur, CO – Joe Flores, Fire Management Officer at Dinosaur National Monument reported that firefighters are in what is known as the "mop up" phase on the Wild/Hacking fire. During "mop up," firefighters ensure that there are secure perimeters around the fire and that any hot spots that may be sources for potential re-ignition are suppressed.
The current official estimate for the size of the fire remains at approximately 370 acres. This number may change once surveys have been completed. "Our actions for managing the fire for its natural resource benefits and suppression efforts have been successful," according to Flores. "Firefighters continue to make good progress on containment and suppression efforts." As of Tuesday morning, the fire was reported at 15% containment, with this number expected to increase throughout the day.
Fire crews will begin the demobilization process starting on Wednesday, but some staff will remain on the fire site through at least Saturday. At its height, a total of 44 fire personnel were on the scene, which included a 20 person fire crew from Montana, a Black Hills Fire Module, a fire crew from Dinosaur National Monument, and a helicopter. Additional monument staff also assisted in support operations.    
Originally, the Wild/Hacking fire began as two separate fires, the result of lightning strikes on Thursday, but had merged into one fire by Friday, June 14. Located in a remote portion of the monument without any threat to structures, fire managers analyzed a number of factors and decided to manage the Wild/Hacking fire for the natural benefits fire provides, including fuel reduction, returning nutrients to the soil and improving wildlife habitat and forage. "As the fire moved around, there was the potential for it to enter into terrain that would make suppression efforts, if needed, very challenging," stated Flores. "We also wanted to make sure that the fire did not pose any risk of moving outside the monument boundaries and impacting our neighboring land owners and managers. We achieved the objectives we were hoping for with the initial management and the suppression actions proved successful as well."
The Canyon Overlook and Picnic Area along the Harpers Corner Road remain closed to the public for use as a helicopter landing spot. Fire managers also ask that pilots avoid the airspace around the fire in order to not create hazards for air operations. 
Visitors are advised to avoid the Wild Mountain area of the monument both for their safety and to not interfere with fire operations. The fire is not located near the Dinosaur Quarry and visitor services or facilities other than the Canyon Overlook on the Harpers Corner Road have not been affected by fire operations. Forecasts for next several days are predicting Red Flag Warnings. Windy conditions, low humidity and dry vegetation create a high potential for wildfires to start. Monument staff are asking everyone to be careful with campfires and if possible to avoid campfires from Tuesday to Thursday. If you do have a campfire please ensure it is dead out prior to leaving the area.  
For more information on Dinosaur National Monument, call us at (435) 781-7700. You can also follow us on twitter at twitter.com/DinosaurNPS or find us on facebook at www.facebook.com/DinosaurNationalMonument.