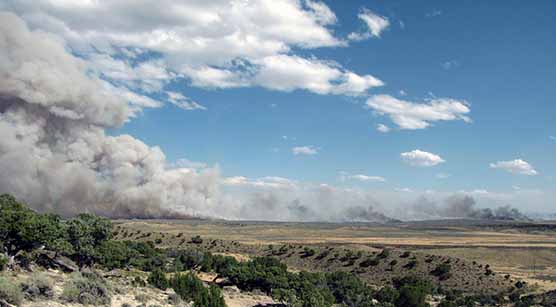 News Release Date:
August 11, 2009
Contact: Mary Risser, 970.374.3001
STATUS
Estimated Acres Burned: 3,443
Estimated Percent Contained: 100%
Expected Full Containment: 100%
Cause: Lightning   Date Started: August 6, 2009
Structures Threatened: None
Thursday's lightning storm caused 37 fires in the Northwest Colorado Fire Management unit last Friday and Saturday, the largest became the Mellen fire across the road from Dinosaur National Monument headquarters. On Friday morning, the Dinosaur fire crew suppressed two fires within the monument on the Yampa Bench – one near Sand Canyon and one above Bull Canyon.
Another smoke plume from a fire ignited by Thursday night's storm appeared late Friday morning near monument headquarters. Dinosaur National Monument staff performed the initial attack. After their condition assessment, additional fire fighting resources were ordered.
Two heavy air tankers from Grand Junction were on the fire within the first 1½ hours. When winds died down about 6:00 p.m., two lighter single engine air tankers from Craig and the Vernal helicopter joined the efforts. Friday afternoon, 2 hot shot crews, NPS staff, 4 various sized water carrying trucks from Artesia Fire Protection District, and 3 Federal engines were assigned to the fire. A few wooden power poles burned, but power was re-routed and re-established to the area within about an hour. Law enforcement personnel were on scene to close Highway 40 if it became necessary.
The Vernal helicopter flew the fire on Saturday morning to acquire boundaries and determined that the fire size was 3,443 acres. The fire burned mostly sagebrush habitat.
Crews have made good progress on the fire, but smoke will continue to be seen for several days as interior green islands burn out or hidden hot spots pop up. The fire's perimeter has been secured for at least 50 feet. It is now a Type 4 fire and resources will remain on scene for several days. Additional Information: Additional information is available online at www.inciweb.org.