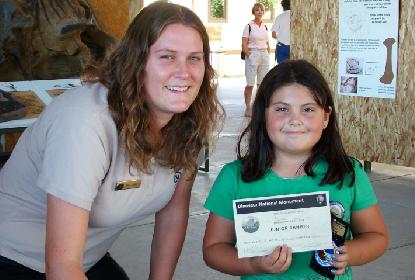 News Release Date:
September 4, 2007
Contact: Carla Beasley, (435) 781-7700
On September 1, Dinosaur National Monument unveiled a new Junior Ranger Program in front of a crowd of eager youth ready to become the first Junior Rangers under the new program. Approximately 30 children with their families from the local area participated in various activities throughout the afternoon that were aimed to help the youth earn their Junior Ranger badge and certificate.
"Thanks to a grant from the National Park Foundation, we were able to revise our Junior Ranger Program so that families with a limited time are able to complete the program," said Carla Beasley, chief of interpretation. "Additionally, the new program includes activities for children as young as four. The activity booklet, badge and certificate are now offered at no cost to all who want to participate."
"Through the Junior Ranger program, I have attempted to help children realize that there are a lot of other things to do and learn about at Dinosaur National Monument in addition to dinosaurs. I have enjoyed creating this new Junior Ranger Program and working with children and families to learn their interests," said Dana Chandler, program creator.