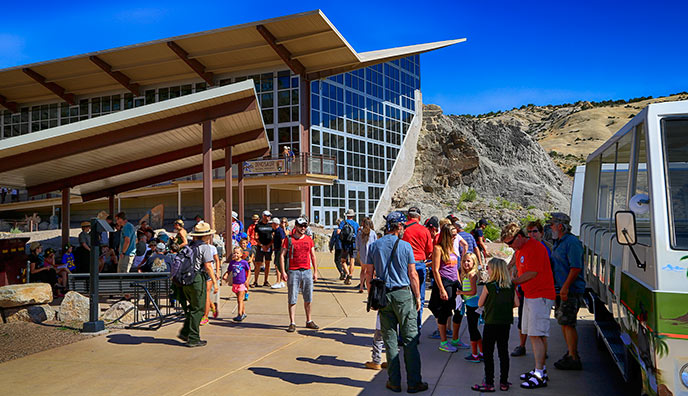 News Release Date:
July 16, 2015
Contact: Dan Johnson, Chief of Interpretation and Visitor Services, (435) 781-7702
Jensen, UT & Dinosaur, CO – Except for a slight dip in May, the first 6 months of 2015 have been busy ones at Dinosaur National Monument. As of June 30, recreational visits tallied a total of 120,543 – a 12.7% increase over the same time period in 2014.
Much of the increase during the first three months of 2015 could be attributed to the mild winter the area experienced. "When it is 40-50°F in February, that tends to draw people out to explore or go hiking," stated Tiffany Small, a park ranger who works at the Quarry Visitor Center. "May was probably a bit down, as we had lots of rainy weather." Visitation tends to increase in June as many schools close for the summer and families head off on summer trips. Dinosaur saw 55,878 recreational visits in June 2015.
| | | | |
| --- | --- | --- | --- |
| Month | Recreational Visits 2015 | Recreational Visits 2014 | Change |
| January | 3,868 | 2,354 | +64.32% |
| February | 4,354 | 2,788 | +56.17% |
| March | 10,001 | 6,387 | +56.58 |
| April | 17,996 | 16,618 | +8.29% |
| May | 28,446 | 30,977 | -8.17% |
| June | 55,878 | 47,855 | +16.8% |
| Total Year-to-Date | 120,543 | 106,978 | +12.7% |
July is typically the monument's peak visitation month,followed by August, June, September and May. Visitation is typically lowest in January and February. Visitation statistics are calculated by using a combination of visitor center numbers, trail counters and the actual number of wheeled vehicles entering the park gates, and using a person-per-vehicle multiplier to calculate the number of monthly recreational visitors. Detailed park visitation information and additional information on how these statistics are calculated is available online at https://irma.nps.gov/Stats/Reports/Park/DINO.
Dinosaur is also celebrating its 100th Anniversary this year with a variety of events and activities from now through October. Visit https://www.nps.gov/dino/planyourvisit/dino100.htm for more information on Centennial Activities. Event planning for the Centennial Weekend of October 3 is currently happening, but will involve a dinosaur themed birthday party for kids on October 3 in the afternoon followed in the evening by a formal anniversary program. More information will be released as it becomes available.
"It is exciting to see the increase in visitors this year," stated Dinosaur National Monument Superintendent Mark Foust. "It certainly seems like folks are taking advantage of the weather and great events being held in celebration of the Monument's 100th anniversary. Our local communities and partner organizations are really supporting this opportunity to celebrate with us. We hope more people will make the trip, or in the case of local residents, take a short drive to come and see what's happening in their park. It's a birthday worth celebrating all year long!"
For more information and updates, call (435) 781-7700 or follow DinosaurNPS on social media.