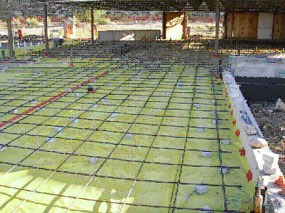 ---
July 27 & August 3, 2010
Quarry Visitor Center – Internal data and electrical underground conduit work is nearly complete. The internal underground sewer installation is also complete.
The west abutment wall is formed and concrete will be poured this week. The slab-on-grade and sub-grade are prepped. The northeast and northwest corners were poured, and three additional pours are scheduled for later this week and next. The first pour was very large; subsequent pours will be reduced in size to ensure quality.
Bridge abutment and slab-on-grade concrete inspections are on-going, as are the electrical underground inspections.