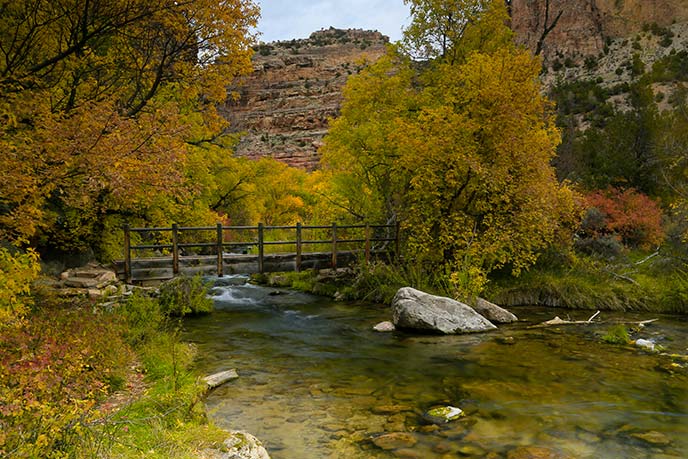 News Release Date:
August 26, 2015
Contact: Dan Johnson, Chief of Interpetation & Visitor Services, (435) 781-7702
DINOSAUR, CO & JENSEN, UT – The section of Jones Hole Creek that remained closed after the 2013 rock slide has reopened to the public. Visitors can once again access the entire length of the creek downstream of the Jones Hole National Fish Hatchery.
While the potential of a future rock slide remains, the lack of any activity over the past two years indicates a reduced risk to the public. A sign is posted at the monument boundary informing visitors that they are entering a potential falling rock area and should remain alert. If people hear cracking or popping noises from the cliff face, they should leave the area immediately.
In June 2013, a rock slide released over 2400 m3 (3140 yd3) of rock, estimated to weigh over 6,000 metric tonnes (6,600 tn). The trail and creek were closed immediately after the rock fall occurred. The trail reopened in August 2013, but a small section of the creek from the National Monument / National Fish Hatchery boundary to downstream of the slide zone remained closed.
Jones Hole Creek and the Jones Hole Trail are popular areas in Dinosaur National Monument. The 4.25 mile trail starts at the Jones Hole National Fish Hatchery and ends at the Green River. For more information on Dinosaur National Monument, call us at (435) 781-7700 or follow DinosaurNPS on social media.