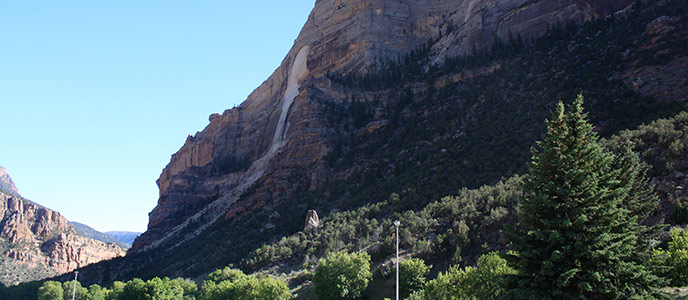 News Release Date:
June 20, 2013
Contact: Dan Johnson, (435) 781-7702
Dinosaur, CO – Due to an active rock slide affecting the Jones Hole Trail and adjacent creek, the trail and surrounding NPS lands from the NPS/USFWS fish hatchery boundary to Ely Creek are closed to all public use until further notice, announced Superintendent Mary Risser. 
The first reported rock slide occurred on Tuesday, June 18, 2013. A large slab of rock broke free from a cliff face just a short distance inside the monument boundary, less than ¼ mile from the Jones Hole Fish Hatchery. One fisherman reported having to run from a boulder that landed in the stream not too far from his location. After receiving reports, park rangers checked the scene and did not see any further activity. 
On Thursday morning, June 20, another small slide occurred. Then near noon, Mountain Time, a much larger slab of rock broke free and tumbled to the stream below. A large debris field formed below the slide site. The slide was large enough to send large boulders, the size of a pickup truck, across Jones Hole Creek before coming to rest against trees by the hiking trail. The surrounding area is covered with a layer of dust from the slide. No injuries were reported as a result of the slide.    
The area that broke free from the cliff is roughly estimated to be 100 feet high by 50 feet wide with a thickness of 10 feet or more. The slab fell over another 400 feet to the stream below. Numerous trees were knocked down during the event including several across the trail.  Large cracks are visible in the rock remaining attached to the cliff. The area will remain closed until further notice. 
If necessary, National Park Service Rangers will issue citations to persons violating the terms of this closure under authority of Title 36 Code of Federal Regulations 1.5(a)(1). The park asks for everyone's cooperation to protect both visitor and staff safety. 
The Jones Hole Trail is a popular hiking trail that connects the Jones Hole Fish Hatchery with the Green River. It is approximately 4.25 miles long one way. The area is also very popular with anglers due to the access to Jones Hole Creek.  
For more information on Dinosaur National Monument, call us at (435) 781-7700. You can follow us on twitter at twitter.com/DinosaurNPS, or find us on facebook at www.facebook.com/DinosaurNationalMonument.