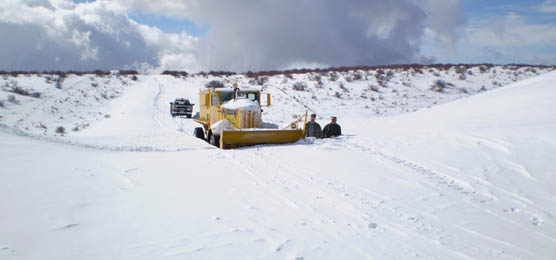 News Release Date:
April 6, 2008
Contact: Brant Porter, (435) 781-7700
Dinosaur National Monument staff had hoped to open the Harpers Corner Road by mid-April, but unusually deep snow has delayed the opening to the end of April.
Traditionally, the Monument has cleared and opened the Harper's Corner Road by Easter weekend. However, an early Easter weekend coupled with heavy snowfall this past winter has hampered efforts to open the road. Crews have worked daily for the past several weeks plowing snow along the road where drifts are fourteen feet deep in some places.
According to Gary Mott, Facility Manager, "Once plowed, the road and sub-base needs to dry for about two weeks to prevent road damage."
The Harpers Corner Road is a 32-mile road (one-way) that leads to the heart of Dinosaur National Monument's canyon country. Several overlooks provide sweeping vistas of the Green and Yampa River canyons. Two trails along the road lead to the canyon rim, allowing a closer look at the Green River over 2000 feet below and into the ragged Split Mountain Gorge. Use caution when hiking these trails in the spring. Lingering snow and wet condition may make the trail slippery in places.
Dinosaur's weather is unpredictable. Always be prepared for a range of conditions.