News Release
Monument Donates Fire Engine to Town of Dinosaur, Colorado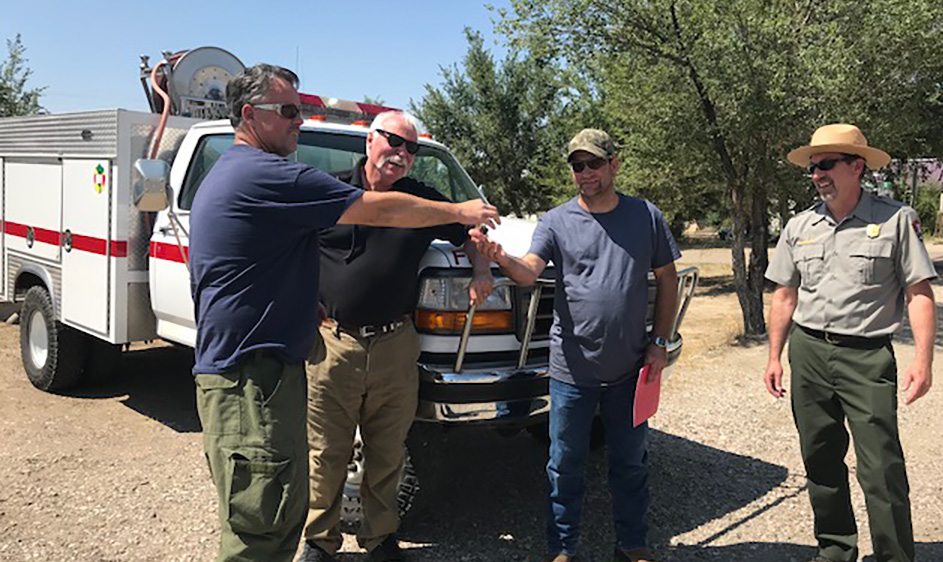 News Release Date:
August 17, 2018
Contact: Dan Johnson, (435) 781-7700
Dinosaur, Colorado – Acting Monument Superintendent Patrick Walsh and Fire Management Officer Steve Heppner, announced the donation of an excess fire engine from the monument to the Town of Dinosaur. The transfer was conducted on Friday, August 17 when Artesia Fire Chief Troy Zufelt received the truck.
The donated fire engine is a Type 6 Engine which is designed for use in rural settings. It includes equipment to conduct initial attack on wildland fires and has room for three firefighters. The engine was originally purchased in 1997 at a cost of $68,956 for use in fire suppression activities at Black Canyon of the Gunnison National Park and Curecanti National Recreation Area. Fire suppression at those locations is now coordinated through an agreement with the Bureau of Land Management Office in Montrose, Colorado. "Though it's an older engine, it is in good shape and will upgrade Artesia's fire engine fleet," stated Dinosaur Fire Management Officer Steve Heppner. "It will still provide years of service to the Volunteer Fire Department."
Dinosaur National Monument has an agreement with the Artesia Fire Protection District in Dinosaur, Colorado to coordinate fire prevention/suppression activities in wildland firefighting efforts including the use of equipment.
Last updated: August 17, 2018