Ecklund Fire Grows an Additional 100 Acres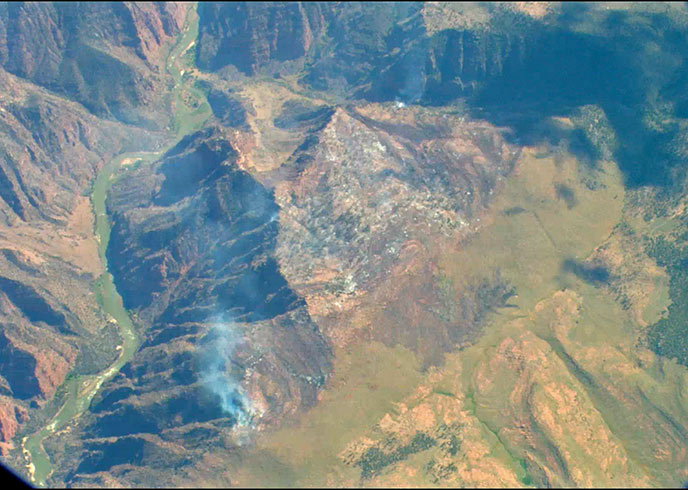 News Release Date:
June 30, 2015
Contact: Dan Johnson, Chief of Interpretation and Visitor Services, (435) 781-7702
Jensen, UT & Dinosaur, CO – Fire crews at Dinosaur National Monument continue suppression efforts on  a lightning-caused fire in the Ecklund Draw area along the Green River's Lodore Canyon. 
The Ecklund Fire, located in the Ecklund Draw and Pot Creek area of Lodore Canyon in the Colorado portion of the monument, was reported just before dark on Saturday, June 27th and has now grown to approximately 526 acres. It is burning mostly grass, brush and Ponderosa pine understory within an old fire scar that burned in 2001. Fire activity has been minimal over the past 24 hours with single tree torching and creeping through grass and brush.
Ecklund Draw is located in a remote portion of the monument near the northwest boundary with the Bureau of Land Management (BLM) near Black Ridge. The fire has crossed outside the monument boundary into the Diamond Breaks Wilderness Study Area managed by the BLM. A fire line was secured in Ecklund Draw on Monday afternoon. The rocky canyon terrain is expected to help contain any southern or eastern spread.
In addition to monument staff, three Type II IA crews, two Type III helicopters, one type II helicopter and a Type III incident management team are on the scene. The Ecklund Fire is being managed as a Type III Incident with a total of 97 personnel. The fire is estimated to be approximately 10% contained.
The Ecklund Fire presents no immediate threat to monument visitors or structures. No evacuations are in effect at this time. Smoke may be visible in the monument from overlooks along the Harpers Corner Road and from along the Green River corridor through Lodore Canyon. 
The upper lot of the Canyon Overlook along the Harpers Corner Road will remain closed while it is used for helicopter operations. The fire has not impacted any other visitor service or facility. For more information about Dinosaur National Monument, call (435) 781-7700.
Last updated: July 2, 2015