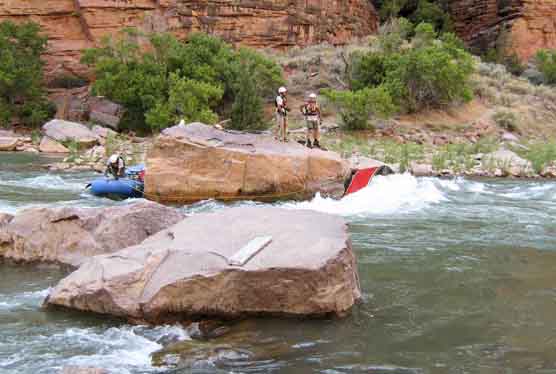 News Release Date:
August 12, 2008
Contact: Carla Beasley, (435) 781-7700
July 31, 2008, National Park Service staff spent four hours using a 10,000-pound pressure winch to remove a privately-owned aluminum dory that was wrapped on Winnie's Rock in Lodore Canyon on the Green River.
In early July, the dory wrapped after hitting Winnie's Rock about three miles downstream of the Gates of Lodore launch site. The pressure exerted from the river's current pushing the dory against the rock was so great that the boat could not be removed from the rock. No one was injured and the group continued downstream, leaving the boat lodged on the rock. After unsuccessful attempts to free the boat by numerous people over the next three weeks, the park staff contacted Grand Canyon National Park for suggestions.
Grand Canyon River Ranger Dave Desrosiers travelled to Dinosaur with a 10,000-pound pressure winch that is used in similar situations in the Grand Canyon. He rafted to the dory's location with Dinosaur Rangers Doug Ross, Phil Dendel, and Matt Gilbert and Superintendent Mary Risser to conduct the salvage operation. After several hours of rigging the dory and preparing the winch system, the boat came off the rock and immediately sank in the left channel. The crew then used the winch to pull the dory out of the water. An inspection showed the boat was so badly damaged that it could not be rowed out of the canyon.
"We appreciate the assistance that we received from our colleagues at Grand Canyon National Park," stated Risser. "Safety was the highest priority throughout this operation. We were able to successfully eliminate a hazard to navigation on the Green. Now we are evaluating our options for getting the boat out of the canyon."