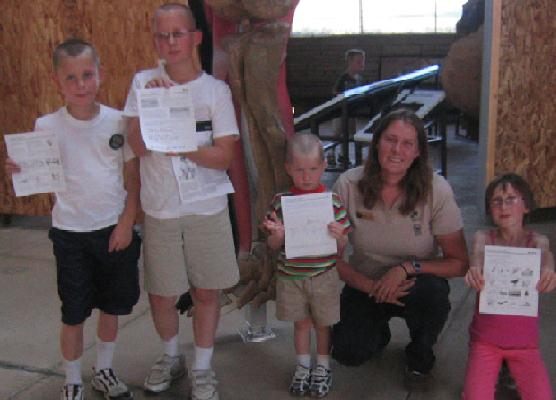 News Release Date:
August 28, 2007
Contact: Carla Beasley, 435-781-7702
"September 1, 2007, has been designated Junior Ranger Day at Dinosaur National Monument," said Superintendent Mary Risser.  "The highlight of Junior Ranger Day is the unveiling of the newly created Junior Ranger activity booklet along with a new Junior Ranger badge at 1:00 p.m.  As part of the celebration, visitors will not be charged the park entrance fees."
The event begins at 1:00 p.m. at the visitor center near Jensen, Utah.  Event activities include the unveiling of the new Junior Ranger booklet and special activities led by Dana Chandler, the program's creator, aimed at helping children complete the Junior Ranger booklet.  Children who complete the activities in the booklet will take an oath to become new Dinosaur National Monument Junior Rangers and will be presented a certificate and badge.  The booklet, certificate, badge, and guided activities are free for each child wishing to participate.
Through a grant provided by the National Park Foundation, Dinosaur National Monument sponsored Dana Chandler, a summer Junior Ranger Ambassador, to develop and improve the Monument's Junior Ranger program.  The Junior Ranger program is aimed for children 4 to 13 years old.  After completing the designated number of activities for their specific age group, the children are sworn in as Junior Rangers and are presented their own badge to wear proudly. The new Junior Ranger booklet and badge are free to each child who would like to participate.
"Through the Junior Ranger program, I have attempted to help children realize there is more than just dinosaurs to discover at Dinosaur National Monument.  I have enjoyed my time at the monument, interacting with children and families as I developed the program," said Dana Chandler, Junior Ranger Ambassador.
The Junior Ranger program, created by the National Park Service in the 1960s, engages kids in age-appropriate activities that introduce them to the treasures of the national park system and allow them to discover the significance of these special places and to understand the importance of protecting them. Today, the Junior Ranger program serves 383,639 children in 297 Parks. It also includes an on-line component, WebRangers (www.nps.gov/webrangers), which receives over 1 million visitors annually.
– NPS –
About the National Park Foundation
The National Park Foundation (www.nationalparks.org) is a 501(c)(3) organization chartered by Congress in 1967 to continue a century-long tradition of private philanthropy ensuring funding to preserve and enhance the legacy of our National Parks. As the official non-profit partner of America's National Parks, the National Park Foundation does not receive federal appropriations for their support. The National Park Foundation serves to strengthen the connection between the American people and their national parks by raising private funds, making strategic grants, creating innovative partnerships and increasing public awareness.  Support of the National Park Foundation ensures that the evolving history and rich heritage of our Nation remains vital and relevant.
Junior Ranger Pledge
"As a Dinosaur National Monument Junior Ranger, I promise to do all I can to help preserve and protect Dinosaur's natural and cultural features. I will continue to learn about these important parts of my heritage even after I leave Dinosaur National Monument."