Date:
April 22, 2009
Contact:
Carla Beasley, 435-781-7700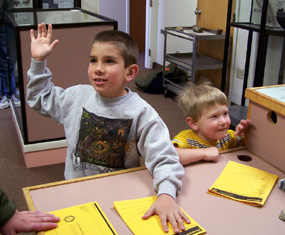 "April 25, 2009, has been designated Junior Ranger Day at Dinosaur National Monument," said Superintendent Mary Risser.
The event begins at 1:00 p.m. at the visitor center near Jensen, Utah. Event activities include special activities aimed at helping children complete the Junior Ranger and Junior Paleontologist booklet. Children who complete the activities in the booklet will be presented a badge. The booklet, badge, and activities are free for each child wishing to participate, and there is no entrance fee to the monument on this day.
The Junior Ranger program, created by the National Park Service in the 1960s, engages kids in age-appropriate activities that introduce them to the treasures of the national park system and allow them to discover the significance of these special places and to understand the importance of protecting them. Today, the Junior Ranger program serves 383,639 children in 297 Parks. It also includes an on-line component, WebRangers (www.nps.gov/webrangers), which receives over 1 million visitors annually.
--NPS-