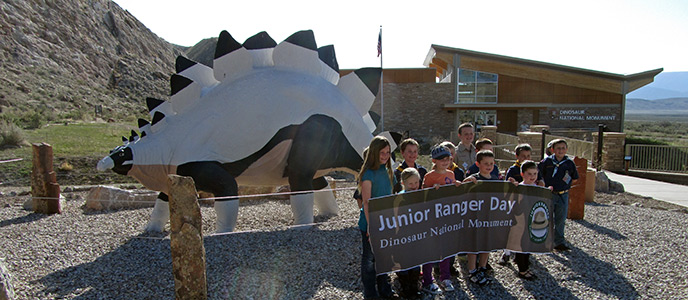 News Release Date:
April 8, 2014
Contact: Sonya Popelka, Interpretive Operations Supervisor, (435) 781-7701
Contact: Dan Johnson, Chief of Interpretation and Visitor Services, (435) 781-7702
Celebrate National Park Week with Free Admission and Special Events
COLORADO/UTAH – Go wild for the fossils, history, nature, and beauty of Dinosaur National Monument during National Park Week, April 19 - 27, 2014. To get the celebration going, all National Park Service sites will waive entrance fees on April 19 and 20. Special events at Dinosaur National Monument this year range from silly to serious, offered day and night, for park enthusiasts of all ages.
On Sunday, April 20, the first 100 hikers on the Fossil Discovery Trail have the chance to find dinosaur eggs (laid by plastic dinosaurs). On Tuesday, April 22, stop by the Quarry Visitor Center to sign a 50th Birthday Card for our stegosaurus statue and find out more about its public debut at the 1964 New York World's Fair. Tuesday evening, in honor of the 150th anniversary of the Yosemite Grant, rangers host Documentary Night at the Uintah County Library in Vernal, UT from 7:00 pm to 8:30 pm with Yosemite: A Gathering of Spirit, a new film by Ken Burns. Saturday, April 26, National Junior Ranger Day, begins with a flag raising ceremony led by local scouts at the Quarry Visitor Center at 9:00 am, followed by games and activities for families in and around the Quarry Exhibit Hall from 10:00 am to 2:00 pm. Later on Saturday, April 26, the Quarry Exhibit Hall reopens from 7:00 pm to 8:30 pm for a Twilight Tour followed by stargazing with telescopes in the Quarry Visitor Center parking lot. National Park Week activities wrap up on Sunday, April 27 with views of the sun through special solar telescopes from 1:00 pm to 3:00 pm on the Quarry Visitor Center front patio.
Dinosaur National Monument's Acting Superintendent, Mark Foust, said "National Park Week is a great time to get out and celebrate your parks. At Dinosaur National Monument, we are excited to welcome visitors from all over the world. We would especially like to welcome local residents who may not have come out to the monument recently. We are proud to be a part of the local communities and would love to see as many people as possible re-connect with the monument and take advantage of the free admission days to get out and enjoy the quarry area and the canyon country."
For those planning a visit to Dinosaur National Monument during National Park Week, please be aware that the summer expanded hours and quarry shuttle have not yet begun. The Quarry Visitor Center on the Utah side of the monument is open 9:00 am – 5:00 pm daily. The visitor center features exhibits, a park film and bookstore and also serves as the departure point for car caravans to the Quarry Exhibit Hall with its wall of dinosaur fossils. Caravans leave from the visitor center at 9:30 am, 10:30 am, 11:30 am, 1:00 pm, 2:00 pm, 3:00 pm, and 4:00 pm. Visitors must first stop at the visitor center before driving to the dinosaur quarry. Unless you visit on April 19 or 20, there is a $10 entrance fee charged for each vehicle entering the monument. The monument's annual pass is a great deal for returning visitors. It costs $20 and will get you into the monument for an entire year. Federal passes are also available for purchase.
On the Colorado side of the monument, the Harpers Corner Road is open. The Harpers Corner Road is a scenic 32-mile one way drive that leaves U.S. Highway 40 two miles east of Dinosaur, Colorado and provides access to several trails and views into the Green and Yampa River canyons. The Canyon Visitor Center, which is located at the start of the Harpers Corner Road, is open 9:00 am to 5:00 pm on Saturdays and Sundays starting April 12.
National Park Week is also a good time to explore local parks, trails, and architectural gems sustained through National Park Service programs such as the Rivers Trails Conservation Assistance program and the National Register of Historic Places. Visit www.nationparkweek.org for more information about what is going on at Dinosaur National Monument and other National Park Service sites throughout the country. You can share your park experiences and photos on the website.
Remember that Dinosaur's weather is unpredictable and can change rapidly. Visitors should always be prepared for a range of conditions. Wildlife, like deer, elk and bighorn sheep, may be seen along the rivers. Spring is a time for black bears to be active in and around the monument. Please be "bear aware" and store your food properly while recreating in the park. More information about bears is available at the visitor centers or entrance station. Please be alert for animals crossing the roads, particularly at dawn and dusk. For more information on Dinosaur National Monument, call us at (435) 781-7700. You can also find us on facebook or follow DinosaurNPS on twitter.