Dinosaur National Monument Releases Digital Quarry Mapping Project
Project brings the famous "Wall of Bones" to educators, paleontologists, and fossil fans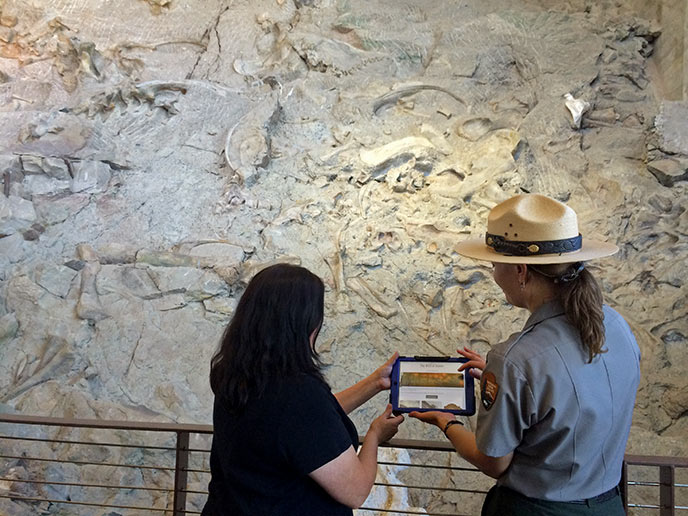 News Release Date:
October 7, 2015
Contact: Dan Chure, Monument Paleontologist, (435) 781-7703
Contact: Dan Johnson, Chief of Interpretation and Visitor Services, (435) 781-7702
Jensen, UT & Dinosaur, CO – Dinosaur National Monument's famous Wall of Bones is now online for everyone to explore. Two stories high and packed with fossils, the Carnegie Quarry is one of the few places in existence where the public can view dinosaur bones exactly where they were first uncovered in the rock. This unique window into the Jurassic has fostered a century of careers in natural science and an appreciation for deep time in generations of visitors.
As Dinosaur National Monument enters its next 100 years of stewardship, a new website will bring the Carnegie Quarry to the world. Volunteers led by paleontologist Dan Chure built the Digital Quarry over the past two years, photographing fossils, illustrating them for the website, digitizing historical records and consolidating data.
The Carnegie Quarry originally held over 5000 fossils, 1500 of which remain in the rock where they were deposited in an ancient riverbed. Athird of those are currently included in the interactive Digital Quarry. Eventually, the Digital Quarry will incorporate all of the original 5000 – digitally reconstructing the historic quarry and making all associated data and archival materials publicly accessible.
"Having the fossils resources at Dinosaur National Monument available to a wider audience has been a goal of ours for some time," stated monument paleontologist Dr. Dan Chure. "After some hard work by our Geologist in the Parks interns over the past couple of years, we are finally able to launch the initial or beta version of the Digital Quarry Project. As we enter the next 100 years of the monument, we are using technology to engage a broader audience around the world. The Digital Quarry Project will continue to grow and develop and we hope it will be a great resource for teachers, students, other paleontologists or anyone interested in fossils."
As an open science, open source initiative, the project has licensed all fossil data and many of the records and images are in the public domain. For fossil fans who code or design, there are also a number of ways to be a part of the Digital Quarry Project. To contribute, visit the project's GitHub page, https://github.com/carnegiequarry/digitalquarryproject. The Digital Quarry is sure to be an invaluable asset to paleontologists, educators and fossil fans alike. Explore it for yourself at CarnegieQuarry.com.
For more information on the Digital Quarry Project or general monument information, call (435) 781-7700, or follow DinosaurNPS on social media.
Last updated: June 20, 2016