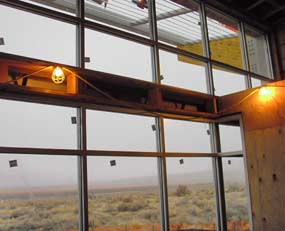 ---
December 20, 2010
Quarry Visitor Center – Exterior stonework has been completed on all the retaining walls and abutment walls/pilasters, except for cap stones. Exterior stonework is still underway on the overlook walls.
Masons have begun to work on the stone veneer behind the desk inside the Quarry Visitor Center.
Because of weather, the roofers were only able to work a few days this week. The flat section of the roof is now 75 percent covered. Detail work remains on both the flat and sloped sections of the roof.
The frame and glazing installation of the exterior windows continued.
Storm drain installation also continued this week.
Rough installation of the fire sprinklers is nearly complete.