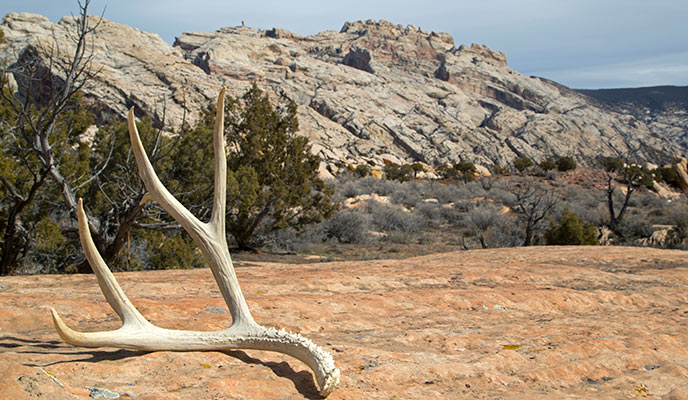 News Release Date:
March 7, 2014
Contact: Dan Johnson, Chief of Interpretation & Visitor Services, (435) 781-7702
Dinosaur, CO – In recent years, antler collecting has become a lucrative endeavor for many people - with antlers being used for everything from chandeliers to dog chews. The National Park Service would like to remind antler hunters on adjacent lands that all items, including deer and elk antlers, within Dinosaur National Monument are protected by law and may not be removed for any reason. In addition to antlers, this also includes archeological remains, fossils, and items, such as rocks, feathers, nests, and plant material. Collecting antlers is a violation of 36 CFR 2.1(a)(1)(i), which covers possessing, removing, or disturbing wildlife parts such as antlers. The penalty for violating this regulation is a fine up to $5000 and/or up to six months in prison. The monument's boundary is generally well-marked by fence and boundary signs, but antler hunters are responsible for knowing who manages the property they are on and what rules and regulations govern the use of that property. Please help us protect the natural and cultural resources in Dinosaur National Monument.
Shed antlers are an important food source and provide critical nutrients, such as calcium, to many small mammals. These nutrients are vital for survival as many of these animals become more active in the spring. These small mammals then pass those nutrients on to other larger mammals and birds, such as bobcats and hawks, when they are caught and consumed. Retaining this important ecological connection between species is an important role that national parks serve. Sites like Dinosaur National Monument were established to protect natural and cultural features "unimpaired for the enjoyment of future generations." The monument's staff invites people to enjoy the scenery of Dinosaur National Monument while leaving it as they found it for others to enjoy.
For more information on Dinosaur National Monument, call us at (435) 781-7700. You can also find us on facebook or follow DinosaurNPS on twitter, flickr, and tumblr.