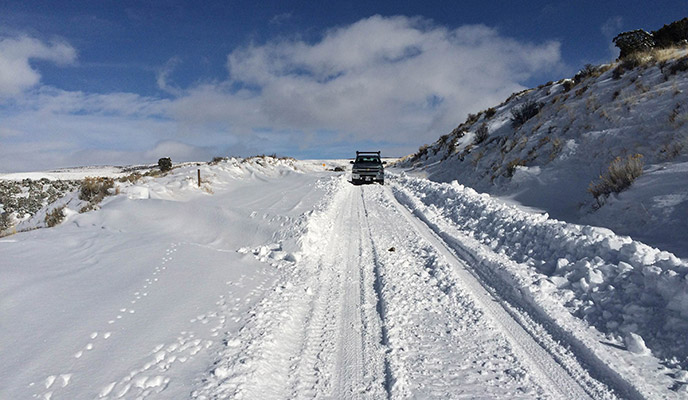 News Release Date:
December 17, 2015
Contact: Dan Johnson, Chief of Interpretation and Visitor Services, (435) 781-7702
Dinosaur, CO &JENSEN, UT–The recent snowfall and arrival of winter at Dinosaur National Monument brings changes to visitor access and services in many areas of the monument.
In Utah, roads around the Quarry Visitor Center and Exhibit Hall are maintained throughout the winter. The Cub Creek Road is plowed to a parking area approximately 2.2 miles past the Green River bridge. The unpaved road to the Josie Morris Ranch is now closed, but is open to hiking, and snowshoeing or cross-country skiing when conditions permit.
In Colorado, the Harpers Corner Road is temporarily closed at Plug Hat Butte, five miles from U.S. Highway 40 for snowplowing operations. If conditions permit, the lower portion of the Harpers Corner Road is usually kept
open to the Echo Park Road turnoff through December 31st so that hunters may access private and BLM land adjacent to the monument. On January 1st, the road closes at Plug Hat Butte, which is five miles from US Highway 40. After the road closes to vehicular traffic for the winter, portions of the Harpers
Corner Road are open to snowmobiling, cross country skiing and snowshoeing if snow conditions permit.
The Echo Park Road, Yampa Bench Road, Island Park Road, portions of the Deerlodge Road, and the road to Gates of Lodore are not maintained and travel on them is not advised during the winter.
"We try to maintain access for visitors to as many parts of the monument as we can," stated Superintendent Mark Foust. "If it is a low snow year, we will keep roads open like Harpers Corner and Cub Creek to Josie's
Cabin."When snow forces us to close them for the season, visitors can still use these areas for winter recreation such as cross country skiing or snowshoeing."
Dinosaur's weather in winter can change rapidly. Visitors should always be prepared for a range of conditions and check the current forecast before heading out. Road maintenance may be limited during storms or on weekends. Visitors to the monument need to be well-equipped with all necessities such as food, water, and gas.Wear appropriate clothing–blue jeans and tennis shoes without a jacket are not the best clothing for walking three to four miles if you become stuck in snow.
Please ensure that someone knows where you are going and when you are expected to return. Spending a night in your vehicle stuck in a winter storm until either your family or employer wonders where you are, can be a life-threatening situation. Night time temperatures can plummet well below zero.
For the properly prepared, winter is a wonderful time to visit Dinosaur National Monument. Days are cold, but solitude is readily available. Wildlife, like deer, elk and bighorn sheep, may be seen along the rivers. Please be alert for animals crossing roads particularly at dawn and dusk.
The Quarry Visitor Center and Exhibit Hall north of Jensen, Utah are open daily 9:00 AM to
5:00 PM except for Christmas and New Year's Day. Due to lower visitation and staffing, access to the Quarry
Exhibit Hall is by car caravans at 9:30 AM, 10:30 AM, 11:30 AM, 1:00 PM. 2:00 PM, 3:00 PM and 4:00 PM. The Canyon Visitor Center near Dinosaur, Colorado is closed for the winter. If you are looking for a last minute gift, Dinosaur Annual Passes are still available for $20. Starting January 1, the new rate
will be $40. Passes are valid for 12 months from purchase so they are good for entry until December 31, 2016.
For more information on Dinosaur National Monument, call us at (435) 781-7700. You can also visit us on the web at www.nps.gov/dino, look for DinosaurNPS on Facebook and twitter.